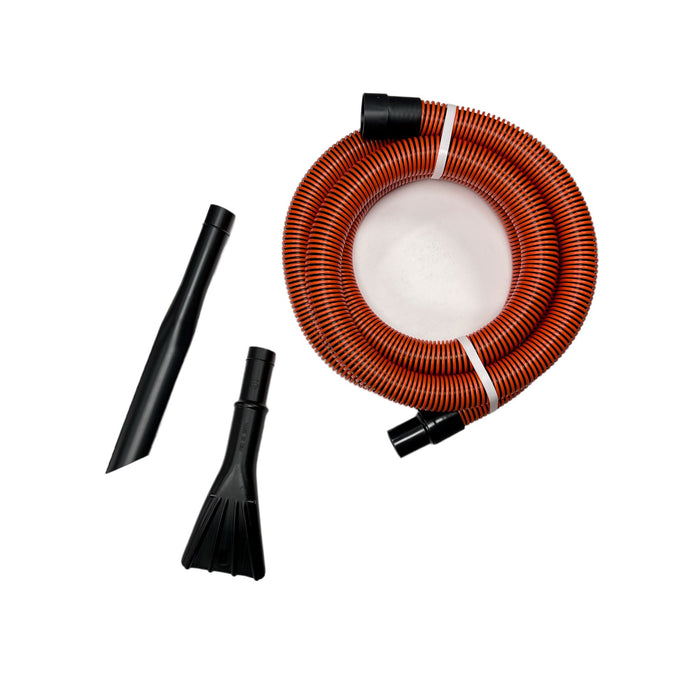 Mr. Nozzle™ 12 Ft. Vac Tool Kit Vacuum Hose Crevice Claw 1-1/2" Wet/Dry M100DB
Original price
$44.99
-
Original price
$44.99

Product Description
12 Ft Vac-Hose Tool Kit

M100-DB

Expands the reach of wet/dry Vacs!

Now you can improve the performance of your wet/dry vac with Mr. Nozzle's superior, crushproof, polyurethane hose that's BUILT TO LAST!  The patented I-beam design provides an interior surface which remains smooth for a continually clog free flow, and virtually kink-proof flexibility. Injection molded hose ends stay tough for years. Rugged blow-molded crevice tool is perfect for tight areas.
Non-clogging claw nozzle for wide area cleaning.
Designed to fit vacuums with a 2-1/4" inside diameter.  For vacuums with a larger opening, see parts MN15 and MN16.
Swivel hose end will only fit tools with a 1-1/2" outside diameter.  To connect to existing 2-1/4" inside diameter tools, see part MN36.
Great for use on janitorial, auto detailing, woodworking, shop cleanup, housecleaning, RVs and boats, construction and so much more!
   Vac-Hose Tool Kit Includes:
(1) 1-1/2" I.D. x 12 ft. Vac-Hose - Part# MN312
(1) Crevice Tool - Part #CTA
(1) Claw Nozzle - Part #SCN1.5
(1) 2-1/4" O.D. Tank Adapter - Part #MN05
(1) Swivel Hose End - Part #MN06
Made in The USA
California Proposition 65 Warning