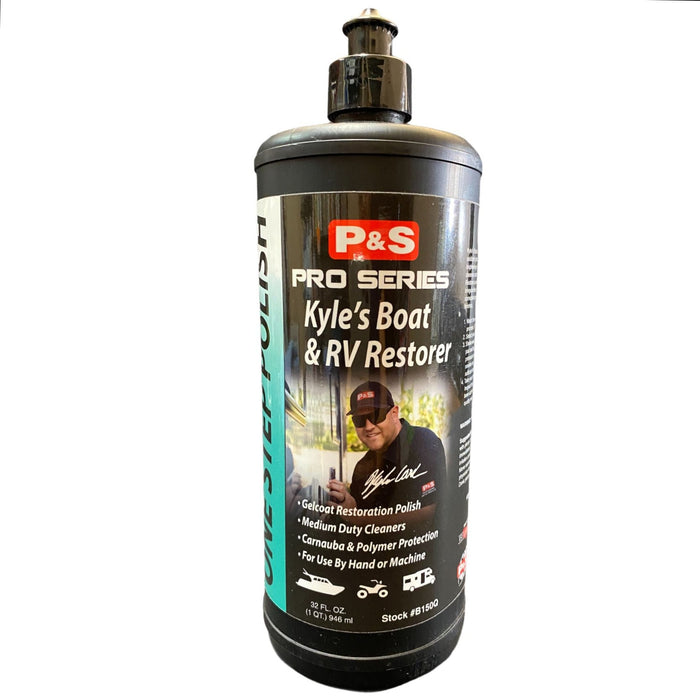 P&S Kyle's Boat & RV Restorer 32oz
Original price
$33.67
-
Original price
$33.67
P&S Kyle's Boat & RV Restorer mechanically removes damaged, oxidized gelcoat and paint, while enhancing, moisturizing and brightening in a single-step restoration process.
Medium cleaners and protective sealants make Kyle's Boat & RV Restorer a versatile polish that cleans away oxidation and surface irregularities leaving a durable finish.
Kyle's Boat & RV Restorer is the perfect one-step restoration product for gelcoat, fiberglass and painted finishes. Kyle's cleans and protects in ONE STEP!
Before restoration, we recommend a solid washing and decontamination of the entire boat or RV. Restoring Boats or RV's by hand is a lot of work so we recommend machine polishing. Kyle's works with all types of polishing tools. For heavy oxidation removal we recommend a rotary tool paired with a wool pad. Step it down to a D/A with foam for milder restoration. The benefit of using this product is the one-step procedure to restore and protect. Once completed wipe down and the job is complete!
 For added protection clients may choose Challenger Boat, RV & Aircraft Wax, UltraCoat Paint Sealant or Bead Maker.
California Proposition 65 Warning