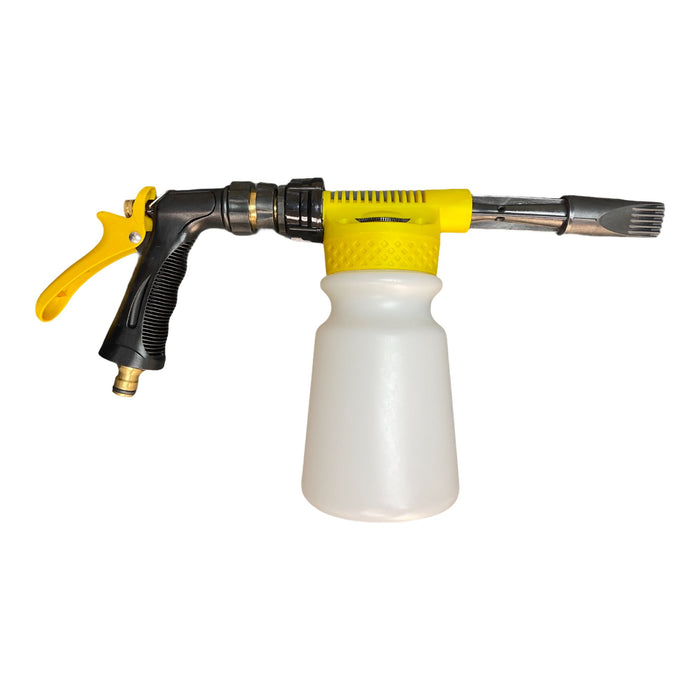 Snow Foam Sprayer for Garden Hose
Original price
$49.99
-
Original price
$49.99
PROFESSIONAL DEVICE TO KEEP YOUR CAR SHINING CLEAN - This car wash foam gun is really perfect for people who do not have access to pressure washer or prefer not to haul it out when washing vehicles in the driveway. It is a professional device that attaches to your standard garden hose with a special sprayer attachment that attaches to a tank. With this high-quality, high-performance, versatile and durable foam gun, you are able to keep your car shining clean and spotless.

ALUMINUM ALLOY INTERNAL STRUCTURE AND BRASS FITTINGS ENSURE DURABILITY - This foam gun has high quality aluminum alloy internal structure, featuring premium finishes and solid brass fittings that can better withstand the test of time. The robust plastic bottle is resistant to strong chemicals and the brass fittings are rust- and corrosion resistant. The seal construction ensures users to get the most out of this device.

ADJUSTABLE SOAP FOAM CONCENTRATION - The running water from the hose is mixed with air and soapy water solution to generate car wash foam, while a turning dial providing you the ability to customize the dilution ratio. All you have to do is to turn the dial to adjust the foam concentration based on how dirty your car is. There is always one from the five foam ratio modes that can achieve the effect you want.

Dual-Function Water Hose Foam Gun - This foam gun comes with a brass quick connection between the sprayer and foamer, allowing you to cycle effortlessly and quickly between spraying foam and spraying water depending on the application you are undertaking. This makes it a versatile addition for a wide of applications. It not only can be used for vehicles or equipment washing, but also can be used to water flowers or plants.

US STANDARD 3/4" THREAD TO ANY GARDEN HOSE - There is a brass quick connector on the bottom of the hand grip, providing quick-connect and quick-release to a garden hose. If you do not need the quick connector, just remove it and then hook up the foam gun to any US standard garden hose. No additional tools are required to complete this effortless installation.
California Proposition 65 Warning