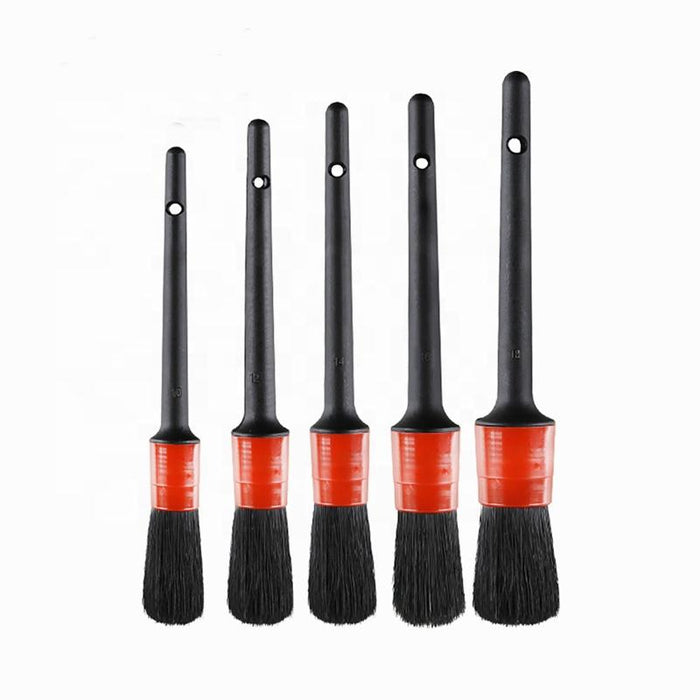 Boars Hair Soft Detail Brushes Set of 5
Sale
Sale
Original price
$13.99
-
Original price
$13.99
PRO BOARS HAIR DETAILING BRUSH SET OF 5
Applicable for Dry Cleaning and Wet Cleaning with Shampoo Solution!

Soft & Smooth Version, Easy to Clean Your Car Especially the Dust or Dirt In The Narrow Gaps!

Safe & Rest Assured to Use, Never Causing Any Heartbreaking Scratches on Sensitive Finish!
INTEGRAL SET & ASSORTED SIZES --- The Detailing Brush Set Of 5 Sizes Available! These Various Types Of Brushes With Long Handle Can Assist You In Detailing Cars And Cleaning Different Areas Either Wide Or Narrow, Which Will Satisfy Your Requirements Perfectly! Friendly To Your Car And Never Causing Hurt Particularly On Sensitive Area!
PREMIUM & HIGH QUALITY MATERIAL --- Well Crafted With Premium, Nature And High Quality Boar Hair/ Bristle And Handle Made Of 100% Brand New PP Plastic, Which Is Fixed And Constructed Firmly And Sturdily, Extra Compacter And Never Dropping Off The Hair Even If In a Hard Job, Corrosion And Chemical Resistant Comparing With Ones Of Metal, Offering You a Long Lifespan And Durable Service!
LONG & NATURAL BOAR BRISTLES FOR EFFICIENT --- Unlike Others, Our Natural Boar Bristle Brush Processed with Synthetic Fibers Soft And Smooth But Containing No Metal And Chemical, Ultra Fine For Scratch Free And Never Leave Damages Upon Your Cars Surely! The Long Boar Hair Can Remove The Dirt, Grime And Dust Quickly And Thoroughly In Dry Clean While It Has a Great Capacity Of Water Dipping for Wiping Stains Efficiently In Wet Clean. Besides, The Long Handle Can Reach The Places Wherever You Want!
UNIVERSAL TYPES AND MULTIPURPOSE APPLICATION --- Widely Loved And Popular With Different People And The Necessitated Detailing Brush Set For Especially The Car Lovers And Detailers. Mainly Used For Cleaning Wheels, Emblems, Dashboards, Air Vents, Leather And Seats, Brake Calipers, Grilles And Grates, Engine Bay, Interior And Exterior Car/ Motorcycle, Etc. Also Fit For Daily Devices Like Computers, Radios And So On!