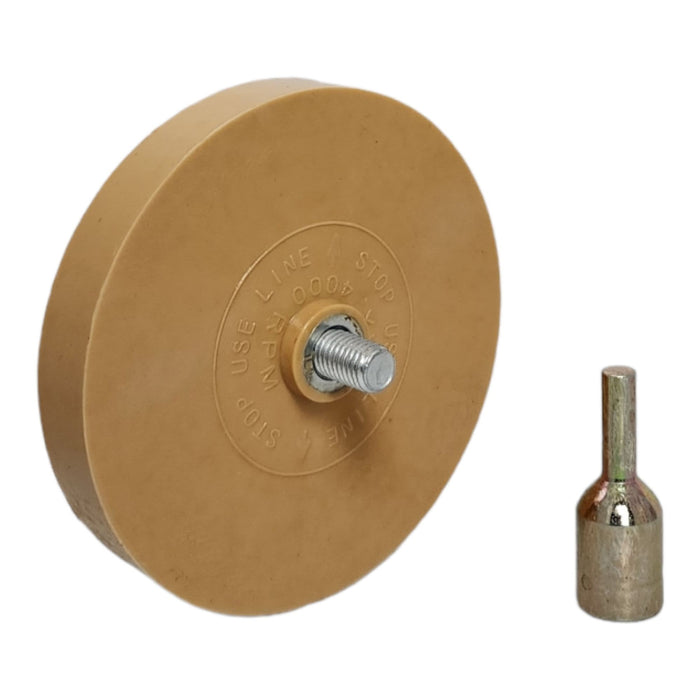 Detailer's Choice Eraser Wheel- Vinyl Decal, Adhesive, and Sticker Remover
Sale
Sale
Original price
$21.00
-
Original price
$21.00
Effortlessly Remove Decals with Detailer's Choice Eraser Wheel
Remove stubborn decals with ease using the Detailer's Choice Pinstripe Eraser. Say goodbye to the frustration of removing old, stubborn decals from your car, truck, RV, or windows. This powerful tool is designed to quickly and easily remove vinyl decals, adhesive, pinstriping, and stickers without causing any damage to your vehicle's acrylic enamel, urethane paint, or clearcoat.
Safe and Easy to Use The Detailer's Choice Eraser Wheel makes removing decals safe and easy. The rubber wheel includes an electric drill adapter arbor, making it simple to install on any home power or pneumatic drill. Just apply light pressure to the top of the decal, working back and forth until it is removed. You won't have to worry about damaging your vehicle's paint or clearcoat, as our eraser is designed to be safe for use on these surfaces.
Satisfaction Guaranteed At Detailer's Choice, we are committed to providing high-quality products. We offer a satisfaction guarantee on the Pinstripe Eraser. If you encounter any issues with the eraser wheel you purchased from us, our sales support team is ready to assist you.