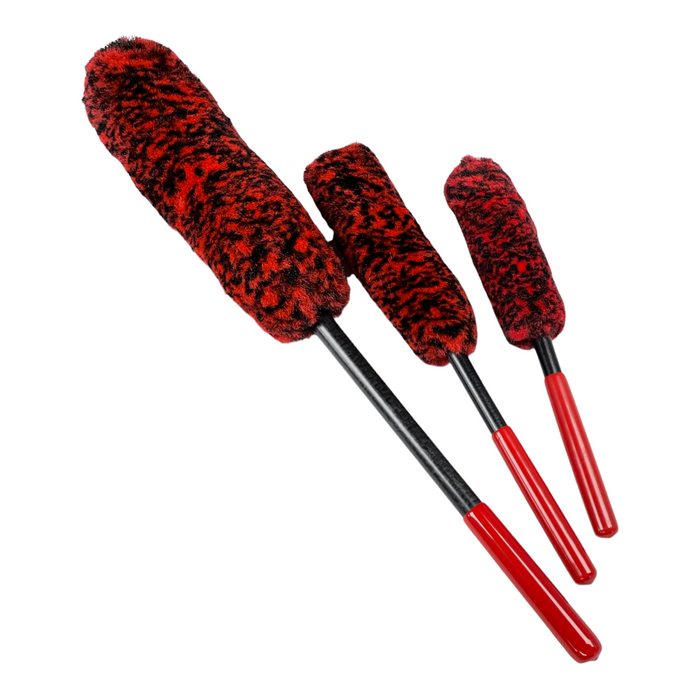 Detailer's Choice Wheel Woolies Brushes
Sale
Sale
Original price
$35.00
-
Original price
$35.00
Detailer's Choice Wheel Woolies are the safest and most effect way to clean vehicle wheels for the detailing enthusiast. Due to the fantastic job Wheel Woolies do cleaning the outside surfaces of car rims and wheels, as well as the small cracks, slots and crevices where brake dusts accumulates. The big advantage of the Detailer's Choice Wheel Woolies comes from its metal-free design which reduces scratches and brush splatter. Twisted wire spoke brushes are known to damage rims and create water and residue splatter due to their aggressive bristles.
Various Size: Wool wheel brushes have 3 different size, which are satisfy with any cleaning needs. They can clean wheel, engines and makes it easier to deep into hard-reach area. Great for wheel spokes, engine bays, door jambs, bumpers, vents, rims and exhaust tips etc.

Bendable Wheel Brush kit: You will like the bendable wheel brush to get the "Lip" That runs around the entire rim. It can reach deep into barrel or behind spokes. Perfect for cleaning hard-to-reach areas, can achieve detailed versatility.

Perfect Materials : The wheel woolies wheel brush kit is made of soft synthetic wool fiber. The synthetic wool fiber is soft, not to shed and chemical resistant. The dense bristles can hold a large amount of soapy water to get into the wheels and provide a good cleaning without any damage to the rim surfaces. This micro fiber wheel brush wand does not sling wheel cleaner back into your face which is a huge benefit over the stiff bristle options.

Ergonomic Handle: The wheel woolies brushes handle is thicker and more flexible for better ergonomics. The wheel brush handle is covered with red non-slip rubber. Can help you easy to hold and increases friction to prevent falling in wet conditions. Flexible yet strong handle enough to play a bigger role.

Excellent Performance: The wheel woolies brush has no metal parts exposed, rubber brush heads to avoid scratching the wheels when pushed inside. You can safety to clean your car without worrying about scratches and surface to damage. The wool wheel brush has anti-static properties, easy to remove brake dust, dirty, oil and other harmful debris from any surface.