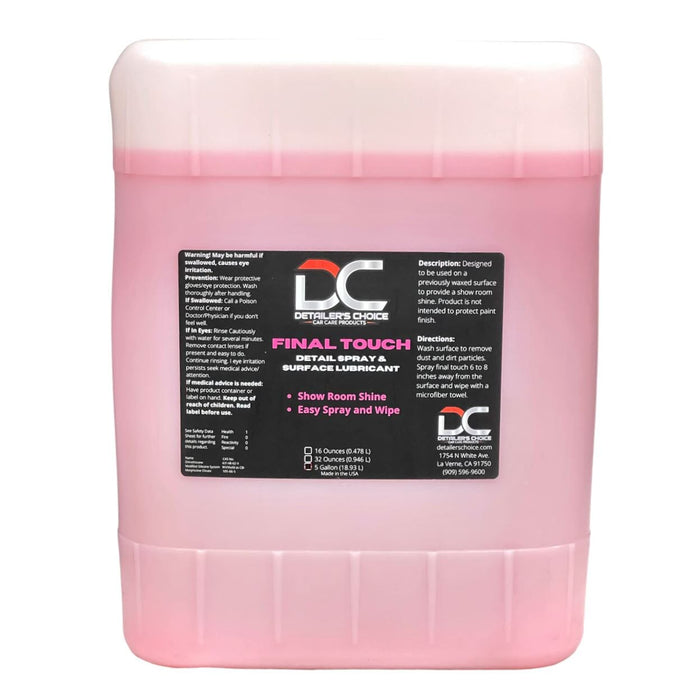 Final Touch Quick Detail Spray 5 Gallon
Original price
$89.99
-
Original price
$89.99
Final Touch Detail Spray makes it easy to remove unwanted fingerprints and smudges for a showroom shine. In a matter of minutes you can safely clean your entire vehicle. Use Final Touch Detailer to increase the gloss and protection of paint, glass, and chrome. Make Final Touch Detailer your go-to product for all your general quick detailing chores.

Final Touch Detailer increases the longevity of your wax by lubricating the surface to safely remove corrosive contaminants that land on your paint in between regular washes. Final Touch Detailer is quick enough that you can clean and shine your vehicle on your lunch break, or before heading to work or school in the early morning. 

Final Touch Detailer does not streak or smear, and it never leaves surfaces hazy or cloudy. Final Touch Detailer is slick enough that it can be used as a clay bar lubricant.

Spray, buff, and done – that's how quick and easy Final Touch Detailer cleans and shines your vehicle.

✅ WHY CHOOSE FINAL TOUCH DETAIL SPRAY? - Final Touch Detail Spray is our most Iconic and versatile product. With so many uses, its an auto detailer's swiss army knife. It can be used with a clay bar as a clay luber, pad primer, quick polishing booster, gloss enhancer, wax booster, waterless wash dust cleaner, & as a drying aid. We call this fan favorite Detail Spray, others call it "magic spray" or "the shiny stuff"!

✅ STREAK FREE & SAFE FOR ANY SURFACE - Equipped with state of the art technology,

Final Touch 

Detail Spray is guaranteed to outshine the competition & has been the industry leader in providing high gloss, deep shine, & extending the life of your car wax or paint sealants!

Final Touch 

Detail Spray is the choice for many auto detailing fanatics for car shows & events. Best of all, its safe on plastic, windows, paint, & trim.

✅ A GREAT ADDITION TO YOUR CAR CLEANING KIT OR WASH KIT - Most store-bought detail sprays are packed full with fillers and "hiders" that give the false shine that only lasts a few minutes. Spray over your existing ceramic coating and add to the shine and hydrophobic properties of your ceramic coatings and waxes. Every car detailing enthusiast should add detail spray to arsenal of cleaning supplies.

✅ SIMPLY SPRAY & WIPE -

Final Touch

Detail Spray is safe on paint, glass, chrome, wheels, grilles, and trim to safely clean and shine with just a mist. It can even be applied inside your vehicle. With a spray and swipe using a microfiber towel or cloth, the results from our detail spray are breathtaking. Our products are consistent and will give a first-time user the same result as a veteran detailer!

✅ 100% SATISFACTION GUARANTEE & USA MADE - At Detailer's Choice, we strive to bring the BEST car cleaning supplies, auto detailing kits, washing accessories, microfiber towels, rags or cloths, waxes, sealants, ceramic coatings, mops, brushes, mitts, sponges, garage tools, applicators & other high-quality car cleaning products to the car care industry. If you are not satisfied, let us know & we'll do everything we can to make it right!
California Proposition 65 Warning