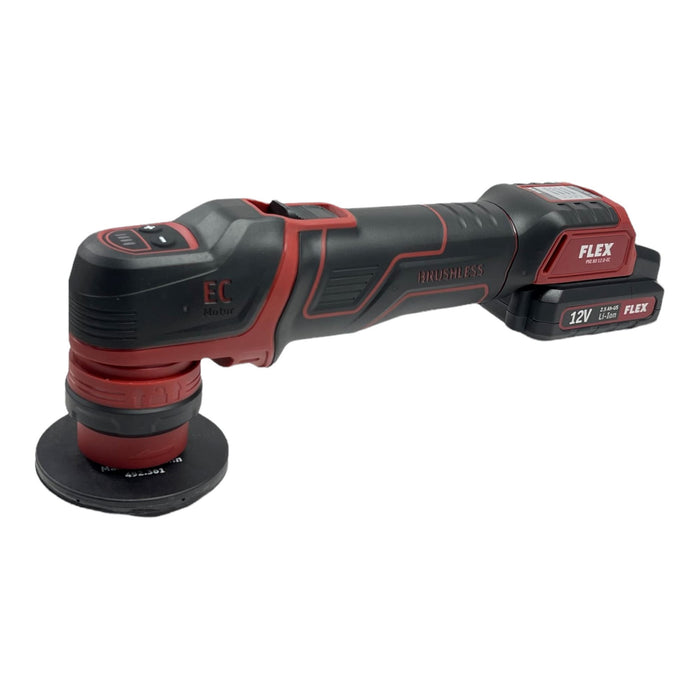 Flex PXE 80 12.0-EC Smart Cordless Polisher Set
Original price
$439.95
-
Original price
$439.95
The FLEX PXE 80 12-EC with its new backing plate setup makes changing sizes faster and types even more convenient. The size and shape allow for a relaxed hold and able to get around to ever corner of your car. Plus, with this special set of accessories, you'll have everything you need to get the ball rolling on getting your car in perfect shape.

Polishers are an extremely helpful tool in the detailing world and FLEX polishers are a known name at that. However, sometimes polishers can be bulky, hard to manage with a short cord and need specific tools to change a backing plate. None of which are conducive to an enthusiastic and comprehensive detailing job. With the FLEX PXE 80 12-EC you have a cordless, easy to manage device with a simple method for changing a backing plate, without requiring the use of tools.


What really sets the FLEX PXE 80 12-EC apart from other polishers out there is the tool-free quick change. Easily change your backing plate for a different size or purpose using the quick turn and pop method. No more having to worry about intricate tools, simply twist and pop everything into place and add your new backing plate. This tool's designated backing system is meant for spot sanding (random orbital 3mm/rotary) paint correction and spot repair, polishing (rotary/random orbital 3/12 mm) for flexible polishing with polishing pads for the elimination of sanding spots and hologram-free finishes, and polishing/sanding (random orbital 3/12 mm) for defect correction, paint correction and hologram removal and finish. To be put more broadly, this tool is great for; water drops, orange peel effect, dust inclusions, tar spots, bird droppings, scratches, hologram effects, matting process, car wash marks and care and paint sealing.

This FLEX set is packed with accessories that make the FLEX PXE 80 12-EC even more desirable and make the detailing process even easier. This set comes with; one of each of the adapters (1 rotary, 1 orbital 3 mm and 1 orbital 12 mm), one of each of the backing plates (1-1" sticky, 1-1" Velcro and 1-3" Velcro), two 2.5 AMP batteries, one charger and one bag. The interchangeable adapters allow for quick and easy change of backing pad styles. Go from sanding to polishing with just a simple motion. Look out! You get three different types; one rotary, one orbital 3mm and one orbital 12mm. Backing plates are key to doing anything with this polisher and this set gives you three types of backing plates. You get a 1-1" sticky backing plate for your sanding needs, as well as, a 1-1" Velcro and 1-3" inch Velcro to cover a wide range of polishing.
TECHNICAL DATA:

Max. polishing pad Ø- 3"
Max. backing pad Ø- 3"
Stroke- 3 & 12 mm
No-load speed- 400-2000/-3000/-4000/-5800 rpm
Stroke rate at no-load- 800-4000/-6000/-8000/-11600 rpm
Battery voltage- 12V
Battery Capacity- 2.5/4.0/6.0 Ah
Ø battery runtime*- 2.5 Ah (up to 20 min.), 4.0 Ah (up to 35 min.), 6.0 Ah (up to 50 min.)
Weight without battery- 1.5 lb


FLEX PXE 80 12-EC KIT includes:
PXE 80 12-EC
1 each of the adapters (1 rotary, 1 orbital 3mm and 1 orbital 12mm)
1 each of the backing plates (1- 1" sticky, 1- 1" Velcro and 1- 3" Velcro)
Qty of 2 - 2.5 Amp batteries
1 charger
1 Bag
California Proposition 65 Warning