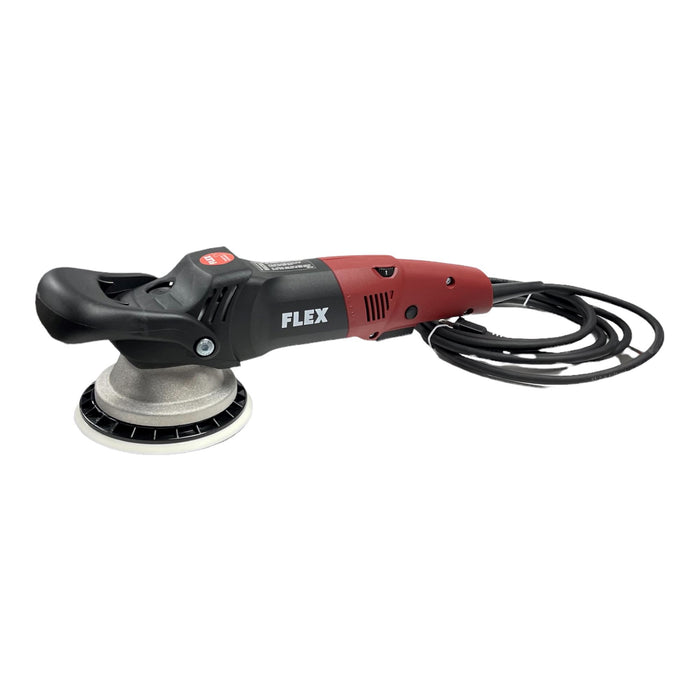 Flex "The Beast" XC 3401 VRG Dual Action Orbital Polisher
Original price
$459.99
-
Original price
$459.99
The FLEX XC 3401 Orbital Polisher is a dual action polisher on steroids! The FLEX XC3401 VRG buffer effectively removes swirls, scratches, and oxidation that can't be removed using other D.A. polishers. The orbital rotation of the FLEX XC 3401 Polisher simulates the circular movement of the human hand while polishing. This motion is less likely to cause holograms than a rotary buffer. At the same time, the polisher's highly smooth running facilitates a careful, precise finish and allows for hologram-free polishing.
Flawless polishing is just what the FLEX XC3401 VRG Dual Action Polisher was made to do. The positive drive ensures a uniform movement, even under load, thanks to constant lift. Taken in conjunction with the large stroke length the FLEX can remove existing holograms from black finishes.
The large stroke length refers to the size of the orbit. On many dual action polishers, this is a very small distance and therefore you feel a jiggling motion. On the FLEX polisher, the stroke length is 8 mm, a huge distance in terms of orbital polishers!
The FLEX Dual-Action Polisher has a true dual action motion. The pad moves in a forced rotation that keeps moving even when you put some pressure on the machine. This forced circular motion REDUCES VIBRATION. No more jiggling! The FLEX Polisher operates smoothly because of the controlled motion of the pad.
The bale handle is positioned on the front of the polisher for your comfort. With the other hand placed at the bottom of the machine, this position makes it easy to balance the polisher on the work surface. The ergonomic design allows you to work for long periods without fatigue.

The FLEX dual action polisher comes with a 5.5 Inch Hook & Loop Backing Plate. This plate is compatible with all Lake Country 6.5 Inch Foam Pads.

The FLEX Orbital Polisher is an outstanding professional grade dual action polisher. It is comfortable to use, well-made, and it works harder than a typical dual action polisher without putting your paint at risk of holograms. Most importantly, the FLEX Orbital Polisher eliminates swirls, scratches, and other paint flaws to leave the paint looking flawless.
Maximum polishing pad diameter
160 mm or 6.3 inches

Velcro pad 150 mm or 5.9 inches
Speed without load 160-480 rpm
Orbit (stroke length) 8 mm or 0.31 inches
Orbit rate, without load 3200-9600 opm
Power input 900 Watt
Power output 590 Watt
Weight
2.60 kg or 5.73 lbs
California Proposition 65 Warning