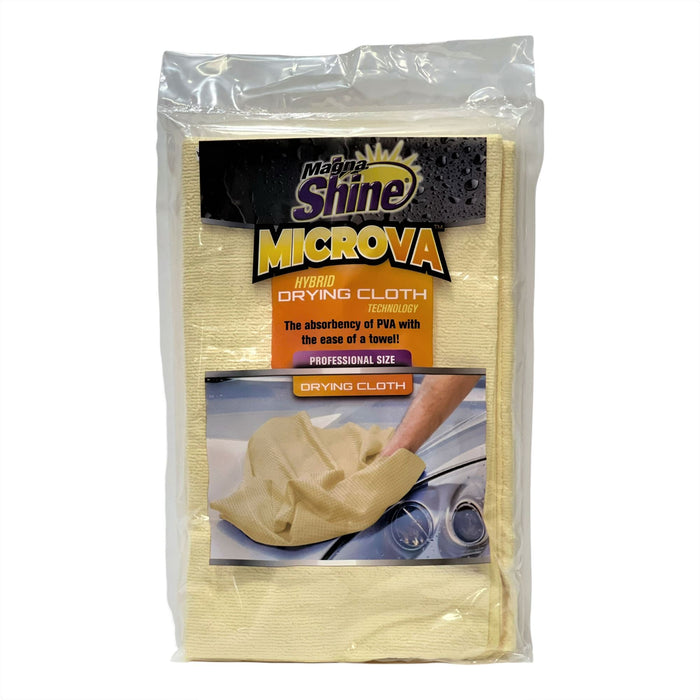 Hi-Tech Magna Shine™ Hybrid Drying Cloth Towel 24"x30" Super Absorbent
Sale
Sale
Original price
$23.99
-
Original price
$23.99
The New Hybrid Chamois Towel - Large 24" x 30"
PREMIUM QUALITY CHAMOIS FOR PROFESSIONAL RESULTS
Absorbs More, Dries Perfectly
When you need a drying cloth for your car that will deliver exceptional results, Magna Shine's hybrid shammy is just what you need. It has the power to absorb up to 10x its weight, quickly drying your car leaving it sparkling with zero streaks. The fibers in our chamois drying cloth also allow dirt to be absorbed into the cloth, so you never have to worry about micro-scratching of paint surfaces. It is ideal for use on your car's exterior and interior and handy for just about any other function. You can use it to clean your motorbike, boat, motor home, or for other household tasks like cleaning your bathroom tiles, soaking up carpet spills, cleaning windows, and more.


Quality You Are Going To Love
Most chamois cloths available in the market are made from PVA material. Ours is made from a blend of microfiber and PVA making it absorbent like PVA and easy to use as a towel. It is extra durable, too, able to deliver years of service without losing any of its stellar performance. The drying cloth is chemical resistant. Our chamois cloth for cars comes in two sizes to suit every need: 17" x 27" in a tube or 24" x 30" in a hang-up bag. It makes an excellent gift for friends and family who are real car enthusiasts.
Note: Thoroughly clean your chamois after use and store it in its storage tube or hang-up bag.
EXCELLENT ABSORBENCY - Magna Shine's hybrid cleaning chamois cloth brings you the absorbency of PVA with the ease of a towel! It quickly absorbs and holds large amounts of water, making it the perfect shammy towel for cleaning both the exterior and interior of your car. Every surface you use it on will be left clean and spotless.
STREAK-FREE CLEANING - Give your car a thorough cleanse and restore it to its original beauty with this lint-free chamois towel. It is just what you need to remove any nasty watermarks or residue, leaving your car's paint, windows, and interior surfaces spotless and streak-free.
CONVENIENTLY MULTIPURPOSE - The powerful absorption properties of our hybrid drying cloth make it ideal for a wide range of functions. You can use it to dry your pet's hair after a bath, clean and dust household appliances, or use it as a cleaning cloth for your bathroom, kitchen, motorcycle, boat, motorhome, and much, much more.
PREMIUM QUALITY MATERIALS - Our shammy drying towel is made from a blend of microfiber and PVA to give you the best of both worlds. It is tough, durable, and chemical resistant. You will reuse it hundreds of times and still get impeccable results. 
EASY TO CLEAN AND CARE FOR - Cleaning your chamois towel for the car after use is easy. Simply throw it into the washing machine, spray it with a garden hose, or wash it by hand to remove tough dirt and grime. Store the chamois in its storage tube or hang-up bag for extra-long service life.
                    More reasons to love our chamois drying cloth:
Absolutely lint- and scratch-free to leave your surfaces spotless

Convenient, easy to use, durable, and reusable for many years
It makes an excellent gift for car owners
Excellent absorbency makes it ideal for a wide range of drying tasks