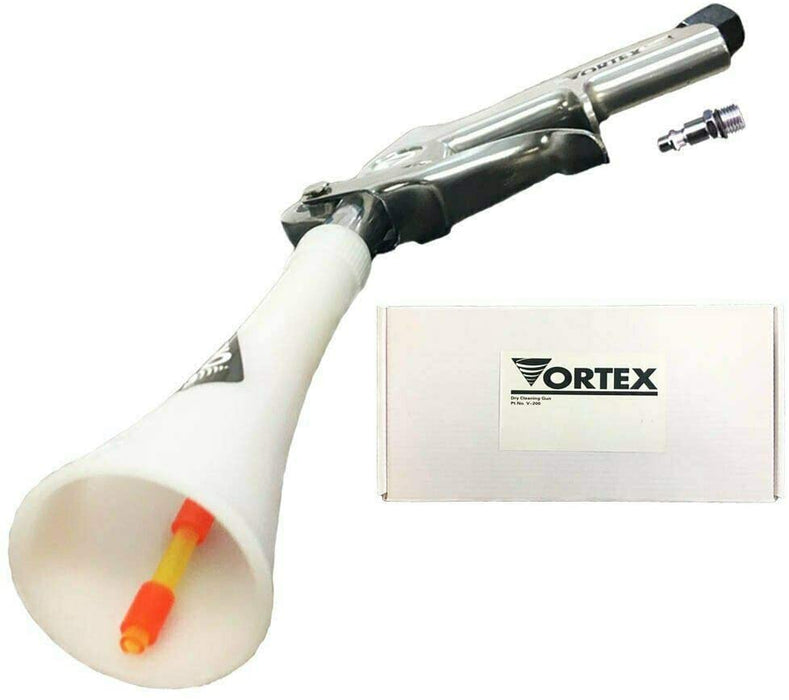 HI-TECH Vortex II Dry Cleaning Gun Tool
Sale
Sale
Original price
$49.00
-
Original price
$49.00
Product description

 

Powerful Cleaning Without Water or Chemicals

Use the Vortex II Air Cleaning Gun with your air compressor to create a high-velocity vortex of air that will blast dirt, dust, debris, and moisture out of those hard-to-reach places inside and outside your vehicle quickly and easily.


The Vortex II Blow Gun Dry Cleaning Tool works similar to the Tornador Cleaning Tool, without the water or chemicals, by using a tornado-like motion powered by your air compressor operating between 60 and 90 psi. The flexible counter-weighted tube housed inside a hard rigid plastic cone provides the air velocity to get the job done fast!

Speed Up Your Detailing Job

The powerful blast of air cleans and dries those areas that are impossible or difficult to reach. Debris is blown out in the open so you can vacuum it up. Water is blasted out of crevices reducing your hand-drying time. Dry the engine faster so you can finish dressing the engine compartment. Your end result will be more professional with less time spent working.

Powerful Design

The Vortex White Rigid Plastic Nozzle is cone shaped enabling you to cover a larger area than air flowing directly from the air compressor. The White Cone with the Flexible Weighted Tube generates tremendous air power exactly where you need it and quickly lifts moisture and dirt from any surface.

The Vortex II Dry Cleaning Gun has the same cone shape as the Tornador Air Blow Out Gun, Tornador Car Cleaning Gun, and Tornador Air Foamer.

Specifications:

Free Speed: 3600 rpm

Air Consumption: I/min 40

Air Inlet: 1/4"

Air Pressure: 6.2 bar / 90 psi

✅ VORTEX AIR CLEANING TOOL - Widely used for cleaning leather car upholstery, dashboard, steering wheel, door panels, carpet, floor mats, the engine surface, seats, meters, door panels, roofs, interiors and so on.

✅ MANY USES - Car cleaning guns are suitable for cleaning the interior of cars, such as car roofs, steering wheels, center consoles, seats and carpets, especially for gaps. It has three types of brush heads, namely a horn, a plastic brush head and an alloy brush head, which you can choose according to your needs.

✅ HIGH QUALITY - The car cleaning gun tool is made of high quality aluminum alloy material and is very environmentally friendly. The aluminum alloy material is strengthened by heat treatment and alloying, and its strength is greatly increased. It is easy to regenerate and is also pollution-free during disposal, which is good for environmental protection. This material has a dense oxide film on the surface that prevents corrosion and is therefore extremely durable.

✅ ERGONOMIC - The handle of the car cleaning gun is ergonomically designed for comfortable grip. It adopts the trigger type air volume control valve, which can be started by one button. It can control the air volume at the same time, and the air supply is stable.

✅ SATISFACTION GUARANTEE - We know you'll get the best tornado Air Cleaning Gun you've ever seen and it will take less time than ever before. That's why we have a 100% Customer Satisfaction Guarantee...Click Add-to-Cart to order yours Today!