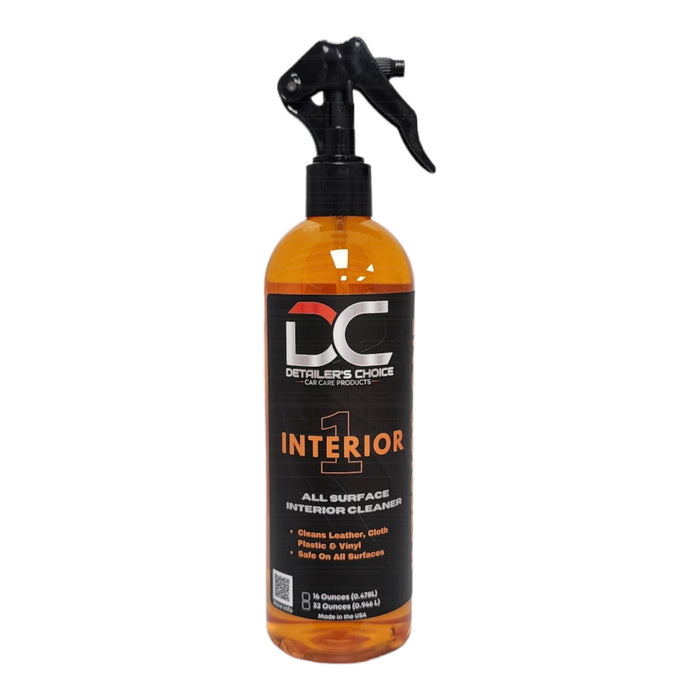 Interior One™ All Surface Cleaner
Original price
$7.99
-
Original price
$18.99
Interior One™ All Surface Cleaner - The Perfect Solution for Your Car's Interior Surfaces
Interior One™ is a powerful and versatile cleaning solution that makes it easy to remove dirt, grime, and stains from almost any surface. With just a few sprays, Interior One™ can safely clean your entire vehicle, leaving it looking like new.
✅ SAFELY CLEAN YOUR CAR'S INTERIOR - Interior One™ Cleaner makes it easy to remove dirt, dust, and grime from your car's interior without damaging any of the surfaces. The formula is specially crafted to penetrate deep into the pores of the surfaces, lifting and removing dirt and stains for a deep clean that leaves your interior looking brand new.
✅ GENTLE YET EFFECTIVE - Say goodbye to harsh chemical cleaners that can cause damage to your car's interior surfaces. Interior One™ Cleaner is a gentle and effective cleaning solution that you can trust to keep your car looking its best. Whether you're a car enthusiast or just looking for a reliable and safe interior cleaner, Interior One™ Cleaner is the perfect choice for you.
✅ VERSATILE CLEANING SOLUTION - Interior One™ Cleaner is safe to use on all surfaces, including leather, vinyl, and plastic. This powerful cleaner can be used to remove dirt, dust, and grime from seats, dashboards, door panels, and more.
✅ 100% SATISFACTION GUARANTEE & USA MADE - At Detailer's Choice, we are committed to providing high-quality car cleaning products to our customers. We stand behind our products and offer a 100% satisfaction guarantee. If you're not completely satisfied with Interior One™ Cleaner, let us know, and we'll do everything we can to make it right.
Directions :
Spray Interior One™ All Surface Cleaner directly onto the surface you wish to clean.
Use a microfiber cloth or a soft-bristled brush to agitate the cleaner and remove dirt and stains.
For tougher stains, allow the cleaner to sit on the surface for 1-2 minutes before agitating.
Wipe away any excess cleaner with a clean, damp cloth.
For leather surfaces, follow up with a leather conditioner for added protection and to keep the surface looking new.
Repeat the process as necessary until you achieve the desired level of cleanliness.
Note: Avoid using Interior One™ All Surface Cleaner on hot surfaces or in direct sunlight. Test the product on an inconspicuous area before use to ensure compatibility with the surface.