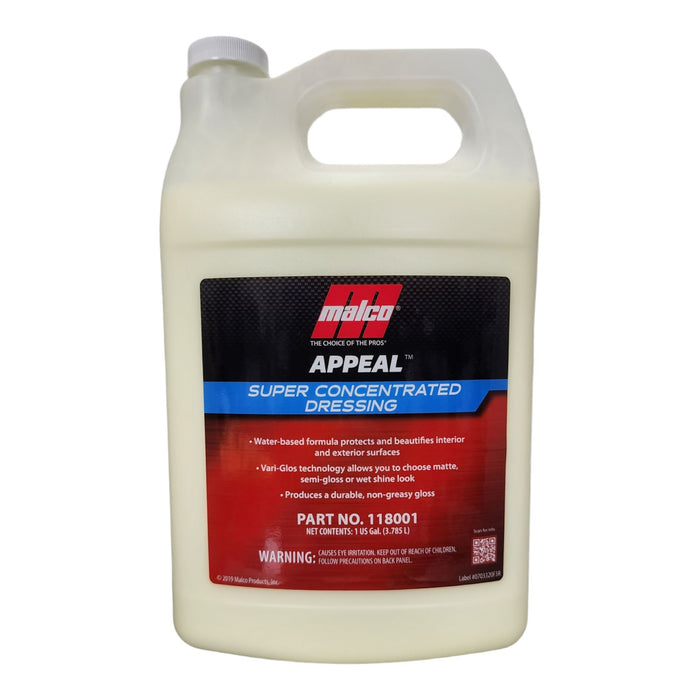 MALCO APPEAL™ SUPER CONCENTRATED DRESSING
Original price
$57.97
-
Original price
$57.97
Introducing Appeal™ Super-Concentrated Dressing – a water-based formula designed to elevate the shine of your tires to your preferred gloss level. This premium dressing offers the flexibility to dilute for varying finishes, from a subtle semi-gloss to a strikingly wet, dazzling shine. Achieve unparalleled tire brilliance effortlessly with this durable emulsion dressing.
Key Features and Advantages:
Customizable Gloss Levels: Appeal™ is dilutable up to 1:5, allowing you to tailor the gloss level to your preference, whether it's a matte, semi-gloss, or a high-gloss, wet look.

Effortless Application: Experience the convenience of an easy-to-use emulsion dressing that simplifies the tire shining process.

Versatile for Interior and Exterior Use: This dressing isn't just limited to tires; it's a versatile solution suitable for both interior and exterior applications.

Economical Choice: Appeal™ stands out as the logical dressing choice for those seeking an economical solution that delivers exceptional results inside and outside your vehicle.

Pleasant Fragrance: Enjoy the application process with the added bonus of a pleasant banana scent, enhancing your overall detailing experience.
For optimal results and to achieve your desired level of gloss, carefully review all label dilution instructions prior to application. Elevate your tire detailing routine with Appeal™ – the superior solution for a customized and brilliant finish.
California Proposition 65 Warning