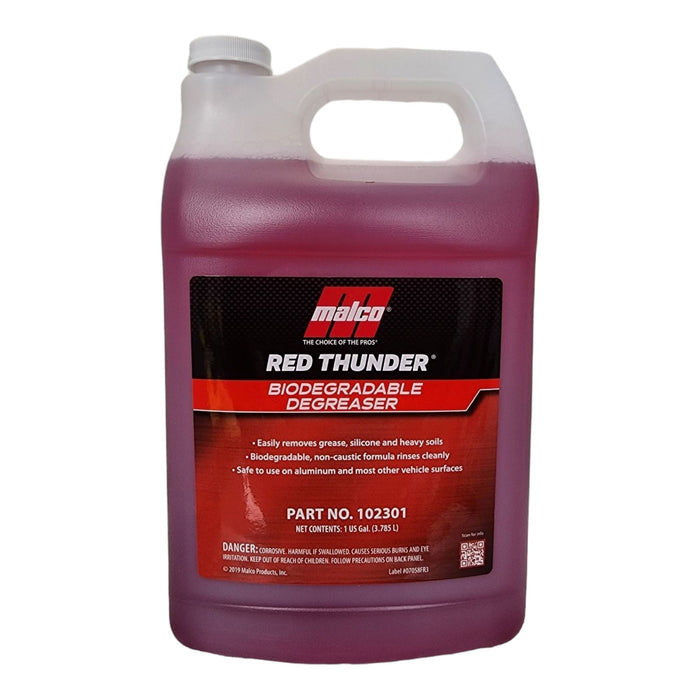 MALCO RED THUNDER® BIODEGRADABLE DEGREASER
Original price
$21.97
-
Original price
$21.97
Introducing Red Thunder® – The Ultimate Non-Caustic Degreaser for Powerful Cleaning!
Discover the outstanding features and benefits of our highly concentrated formula:
🌈 Gentle Yet Effective: Red Thunder® is a non-caustic degreaser designed to tackle a wide variety of dirt and oils from both hard and soft surfaces, making it the ideal choice for versatile cleaning.
🌱 Environmentally Friendly: Our biodegradable formula is not only effective but also eco-conscious. It rinses clean, leaving no residue behind, and is phosphate-free and VOC compliant, ensuring a minimal environmental footprint.
🔧 Safe for Aluminum: Red Thunder® is specially formulated to be safe for aluminum surfaces, so you can trust it to clean without causing any harm or damage.
🍃 Dilution Flexibility: With a dilution ratio of up to 1:10, Red Thunder® provides flexibility in customizing your cleaning solutions to match the task at hand.
Experience the power of Red Thunder® – a non-caustic degreaser that dissolves and emulsifies grease and dirt with ease, leaving your surfaces spotless, safe, and environmentally sound. Elevate your cleaning game with Red Thunder® today!
California Proposition 65 Warning