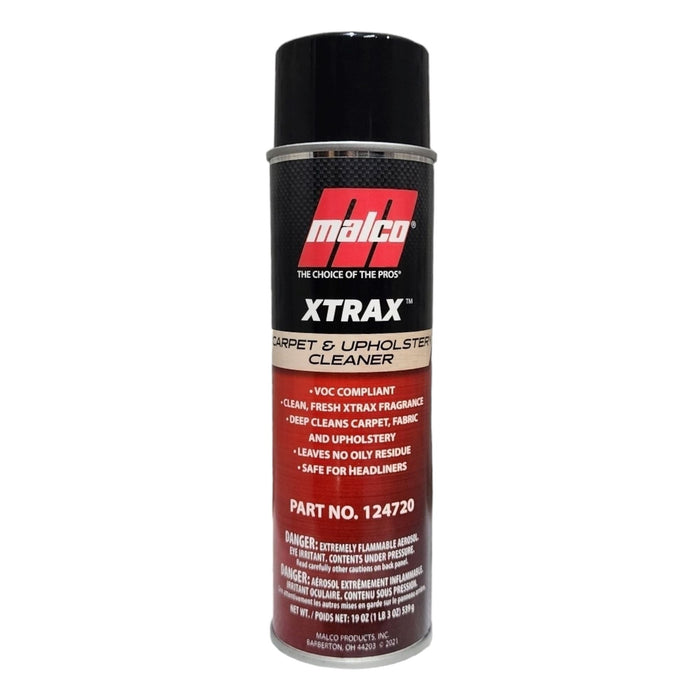 MALCO XTRAX™ CARPET & UPHOLSTERY CLEANER
Sold out
Original price
$8.97
-
Original price
$8.97
Introducing Xtrax™ Carpet & Upholstery Cleaner – Your Fabric's Best Friend for a Fresh and Clean Interior!
Uncover the fantastic features and benefits of our specially formulated cleaner:
🌟 Effortless Cleaning: Xtrax™ Carpet & Upholstery Cleaner boasts a unique foaming formula that effortlessly deep cleans all fabric and upholstery. Say goodbye to stubborn soils as our foaming magic lifts away dirt and grime without leaving any bothersome residue.
🌟 Quick Refresh: This foaming aerosol is your speedy solution for cleaning and refreshing your interior fabrics. It revitalizes your upholstery, giving it a fresh and appealing look.
🌟 Versatile and Safe: Xtrax™ is safe for use on headliners and complies with VOC standards, making it a trusted choice for both car enthusiasts and body shops.
🌟 Residue-Free: Bid farewell to oily residues that can plague your interior. Xtrax™ ensures a clean and pristine finish, leaving your fabrics looking and feeling their best.
⚠️ Important Note: Please be aware that Xtrax™ Carpet & Upholstery Cleaner is susceptible to freezing. Shipments may experience delays due to weather conditions from December 1 - April 1.
Upgrade your interior cleaning game with Xtrax™ Carpet & Upholstery Cleaner, your dependable partner for a fresh, residue-free, and inviting car interior.
California Proposition 65 Warning