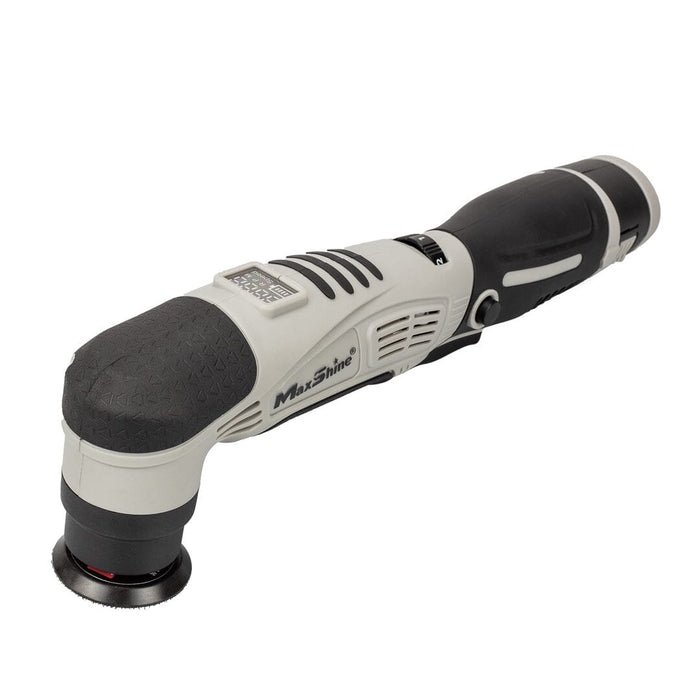 MaxShine® Mini Cordless Polisher M0312 V2
Original price
$249.99
-
Original price
$249.99
MaxShine Mini Cordless Polisher V2 | Cordless Dual Action Polisher + Rotary – Super Light Weight (2.11 LBS), Balanced Power, Battery & Speed Indicator, Quality Battery, Maximizing your mobility
Gain the ability to polish tight areas, complex curves, minute details, and anywhere a full–sized machine cannot. MaxShine's Mini Cordless Polisher V2 allows you to maneuver freely and precisely to achieve that perfect finish. The V2 takes the best of the original and boosts it with upgrades. 

• Upgrade machined CNC steel counterweight and NSK bearing
• New interior construction adds higher quality and more durability
• LED display: RPM and battery life
• Softer and more ergonomic grip
• Larger and more precise speed controller with anti–slip switch
• Increased torque, better balance, and lower vibration and temperature
• Improved battery quality
• Elevated accessories kit
 

Features

:
•Super lightweight and compact
It only weighs 2.11 pounds with battery, plate, and pad ready to go; Dimension: 12.25(L) x 2.5(W) inches

•
Dual Action and Rotary capability
•
Balanced torque, low vibration, ergonomic handle for easy grip
•
1.5" & 2"
backing plates included, as well as rotary extension bars
•
2 battery packs provide continuous use
80W Mini Cordless Polisher
Rotary,3mm,12mm orbit DA polisher
6 Speed Settings (2000
–
4700RPM)
Digital Screen for battery life
2 Batteries
(
2.0A
)
Battery & Speed Indicator
Mini Cordless Dual Action Polisher + Rotary
Hard
Case with color box
3mm CNC steel counterweight
12mm CNC steel counterweight
Rotary Head
1.5″ Backing Plate
2
"
Backing Plate
1in and 3in
Extension Bar
s
2x 2.0Ah 12v Batteries
Wall Charger
(12V 2.0A)
Wrench
Manual
5x
1.5
"
Yellow Polishing Pads
5x
1.5
"
Red Finishing Pads
5x
1.
5"
Wool Cutting Pads
5x
1.5
"
Blue Microfiber Pads
5x
2
"
Yellow Polishing Pads
5x
2
"
Red Finishing Pads
5x
2"
Wool Cutting Pads
5x
2"
Blue Microfiber Pad
s