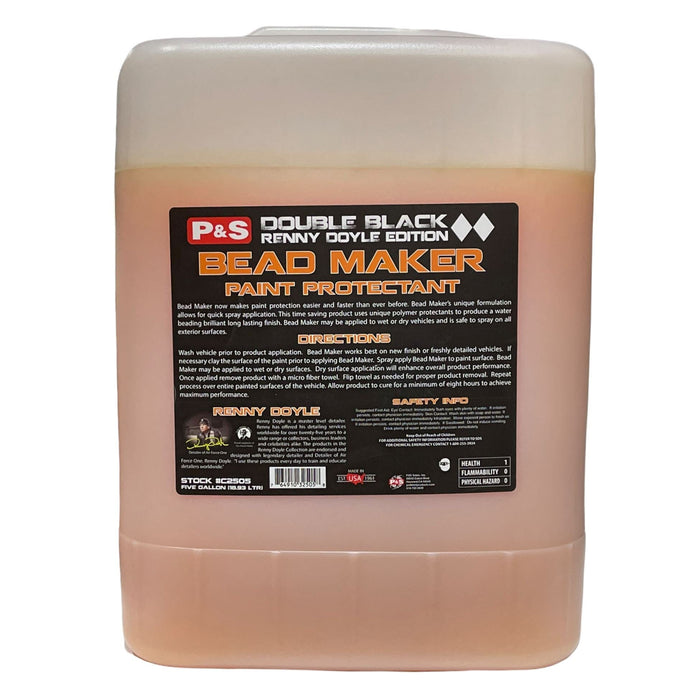 P&S Bead Maker Paint Protectant 5 Gallon
Original price
$160.80
-
Original price
$160.80
P&S Bead Maker Paint Protectant
Bead Maker now makes paint protection easier and faster than ever before. Bead Maker's unique formulation allows for quick spray application. This time saving product uses unique polymer protectants to produce a water beading brilliant long lasting finish. Bead Maker may be applied to wet or dry vehicles and is safe to spray on all exterior surfaces.
Directions: Wash vehicle prior to product application. Bead Maker works best on new finish or freshly detailed vehicles. If necessary clay the surface of paint prior to applying Bead Maker. Spray Bead Maker on wet or dry surface. Dry surface will enhance product performance. Once applied remove product with microfiber towel. Flip towel as needed for proper product removal. Repeat across entire paint surface and allow product to cure for a minimum of eight hours to achieve maximum performance.
 

EASY TO USE - Simply Spray and Wipe On Wet (as a Drying Aid) or Dry Surfaces.

☑️ SAFE FOR ALL SURFACES: Safely Use On Paint, Rubber, Plastic, Metal, Glass and More!

☑️ CURED UV PROTECTION: Combined UV Filters and UV Stabilizers + Longer Lasting, Super Glossy Shine Every Time

☑️ HIGHLY HYDROPHOBIC: Easily & Effectively Repels Dirt and Water Across Your Entire Car, RV, ATV, Boat or Airplane!

☑️ RENNY DOYLE DOUBLE BLACK COLLECTION: Master Level Professional Detailing Products From P&S - Family Owned & Operated For Over 50 Years!
California Proposition 65 Warning