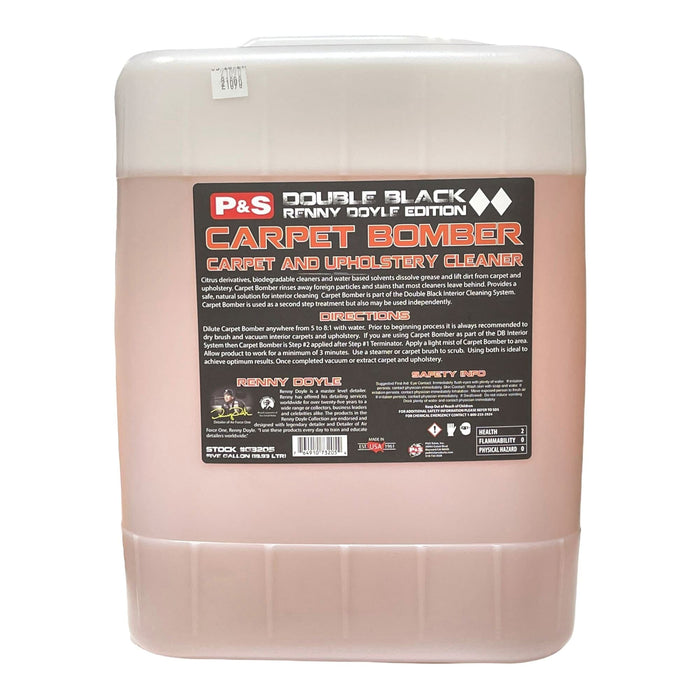 P&S Carpet Bomber - Carpet & Upholstery Cleaner 5 Gallon
Original price
$104.60
-
Original price
$104.60
Eco-Friendly And Affordable Cleaning Solution


Effective Stain Removal
Remove Tough Stains: With P&S Carpet Bomber Carpet & Upholstery Cleaner, you can easily remove stubborn stains from your carpets and upholstery. The biodegradable cleaners and water-based solvents work together to dissolve grease and lift dirt from deep within the fibers, leaving your carpets and upholstery looking and smelling fresh.
Versatile Use: This carpet and upholstery cleaner can be used on a variety of surfaces, making it a versatile addition to your cleaning supplies. Use it on your car seats, carpets, and even your furniture to remove tough stains and grime.
Safe for Interior Cleaning: P&S Carpet Bomber Carpet & Upholstery Cleaner is a natural and safe solution for interior cleaning. The citrus derivatives make it an eco-friendly and non-toxic alternative to harsh chemical cleaners.
Easy-to-Use Formula
Simple Application: With Carpet Bomber, you can easily clean your carpets and upholstery without any hassle. The formula is easy to apply and can be used as a second step treatment or independently, depending on your cleaning needs.
Fast Drying: Unlike some other carpet and upholstery cleaners, Carpet Bomber dries quickly, so you don't have to wait long before using your furniture or walking on your carpets again.
No Residue: Carpet Bomber rinses away foreign particles and stains that most leave behind, leaving no residue behind. This means that your carpets and upholstery will stay cleaner for longer and won't attract more dirt.
Eco-Friendly Cleaning
Biodegradable Formula: P&S Carpet Bomber Carpet & Upholstery Cleaner is a biodegradable formula, making it an environmentally-friendly choice for your cleaning needs.
Safe for Kids and Pets: Since Carpet Bomber is made from natural and non-toxic ingredients, it is safe for use around children and pets. You can use it without worrying about any harmful chemicals or fumes.
Saves You Money: Carpet Bomber is an affordable and effective cleaning solution that can help you save money on professional cleaning services. With its easy-to-use formula and versatile application, you can keep your carpets and upholstery looking their best without breaking the bank.
California Proposition 65 Warning