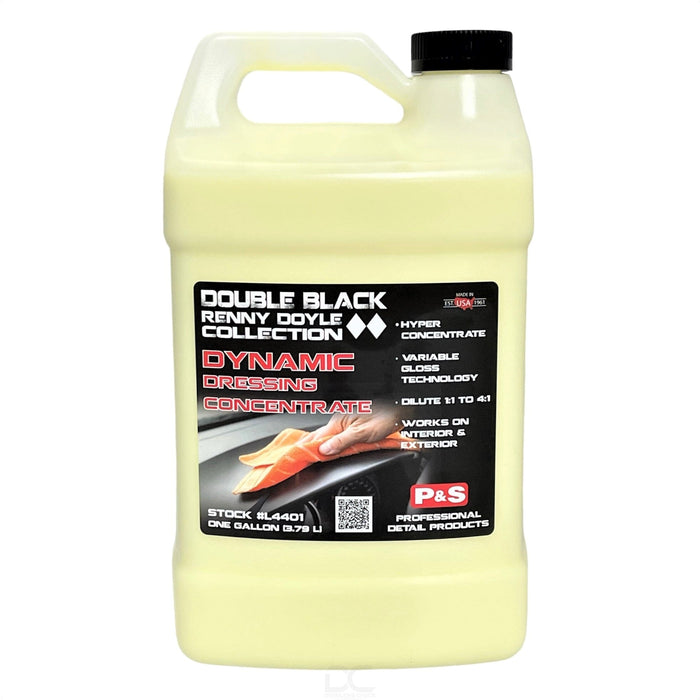 P&S Dynamic Dressing Concentrated 1 Gallon
Original price
$117.15
-
Original price
$117.15
Dynamic Dressing: Hyper Concentrate Formula for Maximum Efficiency
The Ultimate Gloss Finish with Dynamic Dressing
Dynamic Dressing is a hyper concentrate product that can be diluted up to 4:1 with water for various applications. At full strength, it provides a high gloss finish that is perfect for exterior or interior surfaces. This versatile product is ideal for achieving a shiny finish on tires, bumpers, moldings, and dashboards. With variable gloss technology, the level of shine can be customized according to your preference. Not only is it easy to apply, but it also has a fresh banana scent that makes it a pleasure to use. If you're looking for a high-quality product that provides an unparalleled gloss finish, Dynamic Dressing is your answer.
Dynamic Dressing - The Perfect Solution for All Dressing Needs
Dynamic Dressing is a hyper-concentrate product that is perfect for all dressing applications. Its concentrated formula means that it can be used at varying dilution ratios depending on the desired performance. This versatile product can be used on tires, vinyl, plastic, and rubber surfaces to provide a long-lasting and natural finish. It can also be judiciously wipe-applied for extreme gloss or extra dry surfaces. Dynamic Dressing's ease of application and its pleasant scent make it a go-to solution for all your dressing needs.
Dynamic Dressing - A Multi-Purpose Product for Your Convenience
Dynamic Dressing's versatility is incredible. It can be used at full strength for a high gloss finish or diluted up to 4:1 with water for a natural finish. This hyper-concentrated product can be sprayed or wipe-applied, making it perfect for various applications. With its variable gloss technology, you can customize the level of shine you desire. Dynamic Dressing's pleasant scent and its ability to be used on both interior and exterior surfaces make it an excellent multi-purpose product. With one product for multiple applications, Dynamic Dressing makes product management easier.