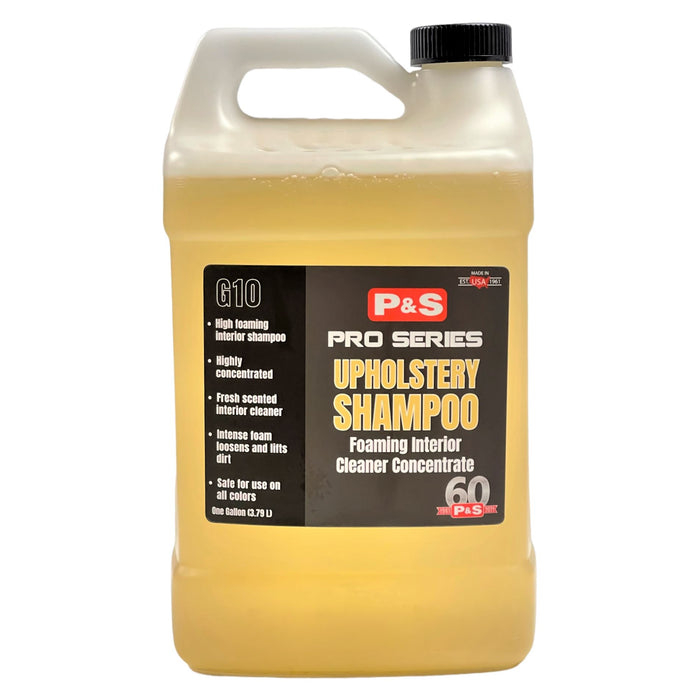 P&S Rug & Upholstery Shampoo
Original price
$19.99
-
Original price
$79.99
P&S Rug & Upholstery  Intense foam loosens and lifts the dirt from even deep carpet. A high foaming, 20 to 1 concentrate, rug and upholstery cleaner for carpets and cloth interiors. Safe on all colors, pH balanced for use on all carpet materials. Contains a mild deodorant and detergent. This is the best hand rug and upholstery shampoo available.
Directions:
Dry brush and vacuum area to be cleaned prior to shampooing.

Dilute with 10 to 20 parts of water with 1 part Rug & Upholstery Shampoo.

Apply with a sponge or sprayer
Scrub with brush or sponge.
Blot area with towel or damp sponge to remove soap.

Dry extract carpet with wet/dry vacuum to remove remaining water/shampoo.
       Hint: Use Enviro-Clean or Terminator as pre-spotter to loosen stubborn spots/stains.
High Foaming Interior Shampoo
Highly Concentrated
Freshly Scented Biodegradable Interior Cleaner
Intense Foam Loosens And Lifts Dirt
Safe For Use On All Colors