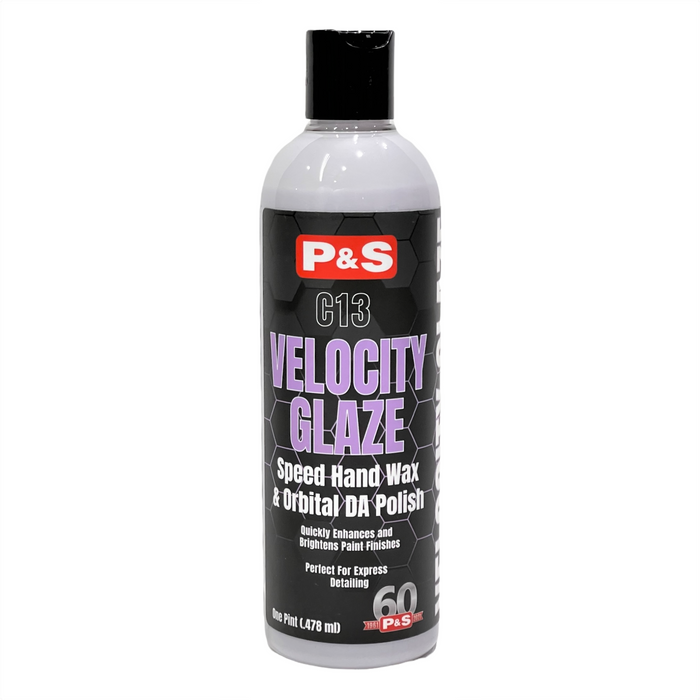 P&S Velocity Glaze
Original price
$14.35
-
Original price
$43.80
Experience the Ultimate Wet-Look Shine with Velocity Glaze
Are you looking for an effortless way to enhance the shine of your vehicle's paint finish? Look no further than Velocity Glaze - the ultimate solution for achieving a high-gloss, wet look shine in no time!
Speed Hand Wax
With Velocity Glaze, achieving a showroom-ready finish has never been easier! Its unique formula is designed to be used as a speed hand wax, allowing you to quickly and effortlessly apply it to your vehicle's paintwork. Thanks to its lotion-like consistency, this product glides on smoothly and evenly, giving you a perfect finish every time.
Wet Look Shine
Looking for a product that will make your vehicle stand out from the crowd? Velocity Glaze creates a deep, wet-look shine that is sure to turn heads. Its advanced emulsion system is specially formulated to provide a high level of gloss and depth, making your vehicle look as though it has just come out of the showroom.
Easy Application
No more struggling with complicated application methods! Velocity Glaze is incredibly easy to apply, whether you prefer to use a hand applicator, orbital waxer, or DA machine polisher. Its unique emulsion system is designed for ease of use and quick application, ensuring that you can achieve a stunning finish with minimal effort.
Easy Wipe Off
Say goodbye to messy and time-consuming removal methods! Velocity Glaze is specifically formulated to be dust-free, making it incredibly easy to wipe off after application. Its slightly moister formula ensures that it enhances dark or difficult to wax finishes without leaving any residue, providing a crystal clear finish every time.