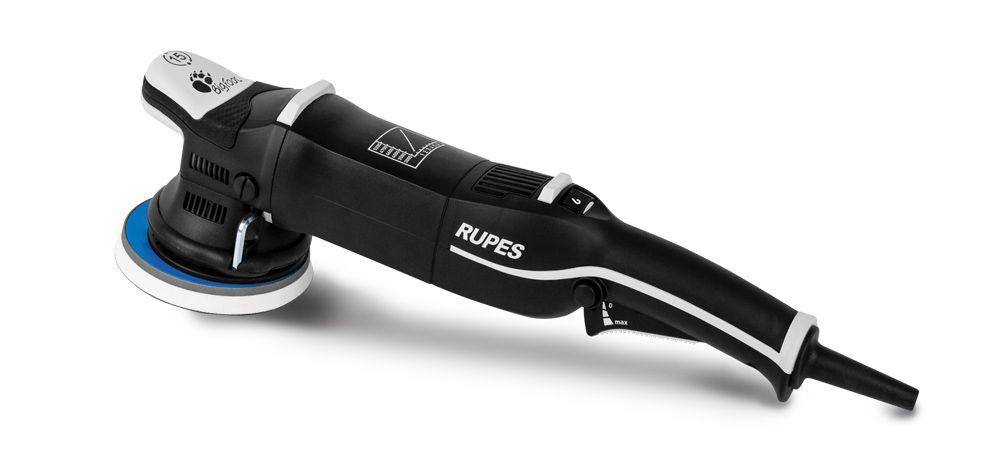 RUPES® BigFoot LHR15 Mark III Random Orbital Polisher
Save

9

%
Save

9

%
Original price
$499.99
-
Original price
$499.99
The RUPES BigFoot LHR15 MarkIII Built to handle any detailing situation, the new LHR 15 MarkIII is the new frontier of detailing. The ergonomic design allows for precise paint correction with complete comfort, in curved surfaces and difficult to reach areas. The LHR 15 MarkIII operates at a higher rpm compared to the LHR21 MarkIII. This increased speed provides equivalent correction and does so with a pad diameter and orbit that are more conducive to curved or varied surfaces.

Here are just a few new features and benefits that the new line of MarkIII RUPES Polishers offers:

Improved Ergonomics – Continuing inline with the RUPES mentality of improved balance, power, and comfort, the new grip and handle on the RUPES BigFoot LHR15 MarkIII Polisher will ensure that your hands and arms on not feeling the strain even if you've been polishing for HOURS (Which is not an unrealistic possibility!)

Electronic Speed Control Dial – You don't always need the most power the machine is capable of producing while you are polishing. You may not be cooking eggs, but sometimes "low and slow" is the right mentality when perfecting your paint. This speed control dial will allow you to adjust to the perfect speed for any and every job you come across!

Progressive Trigger – When you are polishing paint for hours, having your polisher jump from 0 to 100 in the blink of an eye can be quite jarring and difficult to control, especially if you are working in tight areas! The Progressive Trigger on the RUPES BigFoot LHR15 MarkIII Polisher will give you the ability to ease into the top speed of the polisher. The more you squeeze it, the faster it will go, so you don't have to worry about any unneeded slinging due to an unexpected kick from your polisher!

Efficient Motor – This is probably the biggest bonus to the MarkIII polishers! The more efficient motor will let you buff to perfection in a fraction of the time it used to take! The correction potential of any polisher is limited by the power that polisher can produce. And with the ability to up to 5200 RPMs of balanced and consistent paint correction potential, you can be sure that the RUPES BigFoot LHR15 MarkIII Polisher is capable of tackling any polisher job!

California Proposition 65 Warning