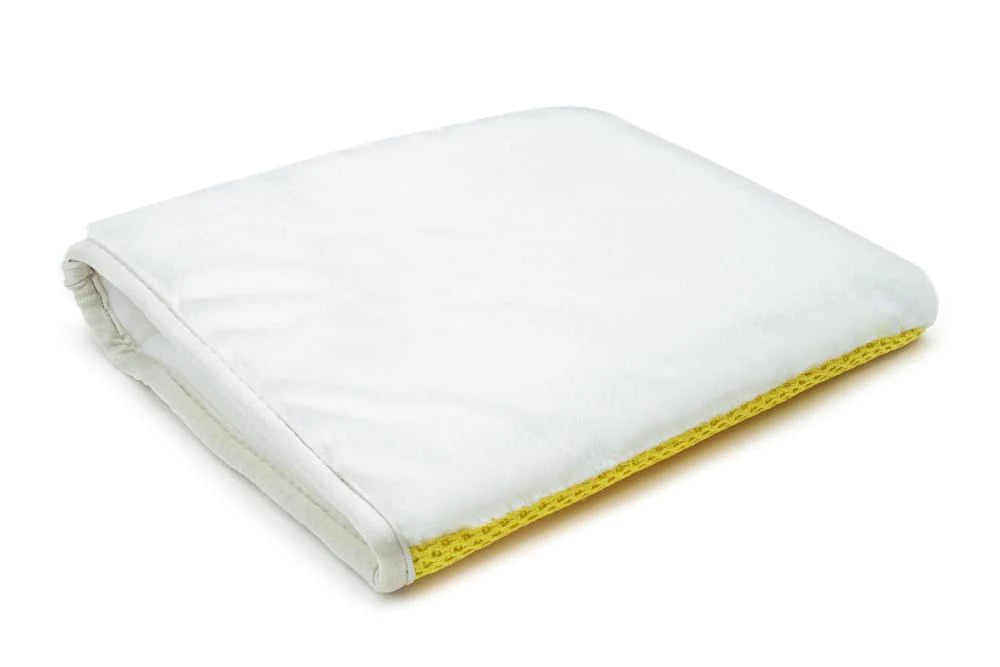 Scrub Ninja - Interior Scrubbing Mitt 8 in. x 6 in. - 1 pack
Original price
$12.95
-
Original price
$12.95
Scrub Ninja - Interior Scrubbing Mitt: The Ultimate Cleaning Companion for Your Car
1. Elevate Your Interior Cleaning Game
Experience the ultimate interior cleaning with Scrub Ninja's Interior Scrubbing Mitt! Designed to bring new life to your vehicle's interior, this powerful mitt is a game-changer for automotive enthusiasts and daily drivers alike.
Deep Cleans All Surfaces: Say goodbye to stubborn dirt and grime on plastic, leather, vinyl, and upholstery. The scrubbing mitt's brush-like, bristle-type fabric is gentle yet firm, allowing it to delve deep into fabric pores and contours, effectively lifting away even the toughest stains.

Revolutionary Microfiber Mesh: The secret behind Scrub Ninja's remarkable cleaning power lies in its innovative microfiber mesh material. This advanced technology cuts through dirt and grime, leaving your vehicle's interior looking fresh, spotless, and ready to impress.

One Pack, Endless Possibilities: Each pack includes one high-quality interior scrubbing mitt (8 in. x 6 in.). With Scrub Ninja, keeping your car's interior in top-notch condition has never been easier.
2. A Gentle Touch for Pristine Interiors
Give your vehicle's interior the care it deserves with Scrub Ninja's Interior Scrubbing Mitt. Engineered to treat your car like royalty, this mitt provides a gentle touch that preserves delicate surfaces while achieving remarkable cleanliness.
Protects Delicate Surfaces: No need to worry about damaging your vehicle's interior while cleaning. The scrubbing mitt's gentle fibers ensure that it cleans without scratching or harming delicate surfaces, keeping your car looking pristine.

Effortless Cleaning: The ergonomic design of the mitt makes cleaning effortless and enjoyable. Slip it on, and feel the comfortable fit as you breeze through your car's interior, restoring its beauty with every stroke.

Professional-Grade Results: Whether you're a detailing pro or a first-time cleaner, Scrub Ninja's Interior Scrubbing Mitt delivers professional-grade results every time. Experience the satisfaction of a perfectly clean and polished interior.
3. Care and Longevity
Scrub Ninja's commitment to quality extends beyond cleaning prowess. We want your Scrubbing Mitt to last, providing you with countless cleaning sessions and maintaining its exceptional performance.
Easy Maintenance: Cleaning the Scrubbing Mitt is a breeze. After each use, simply rinse it out in cool water. For deeper cleaning, you can use diluted APC or Microfiber Towel Soap. Rinse thoroughly and let it air dry for long-lasting freshness.

Durable and Reusable: Crafted with durability in mind, this mitt is built to withstand repeated use without compromising its efficiency. Say goodbye to disposable cleaning tools and embrace a sustainable and cost-effective solution.

A Cleaner Future: By investing in Scrub Ninja's Interior Scrubbing Mitt, you're not just getting a high-quality product – you're contributing to a cleaner future. Reduce waste by choosing a reusable mitt that minimizes the need for single-use cleaning materials.