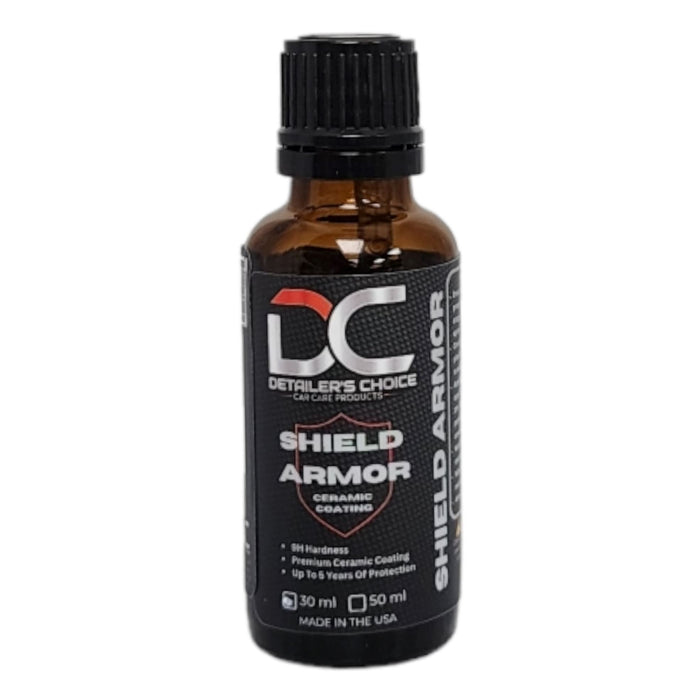 Shield Armor - The Ultimate 5 Year Ceramic Coating
Original price
$79.99
-
Original price
$99.99
Shield Armor - The Ultimate 3-5 Year Ceramic Coating Solution
Shield Armor is the ultimate solution for protecting your car's paint for up to 5 years. Its advanced ceramic coating technology provides superior protection against UV rays, acid rain, bird droppings, and other harmful contaminants. Shield Armor creates a strong, durable, and hydrophobic barrier that repels water and dirt, making it easier to clean your car and keeping it looking like new.
Applying Shield Armor is a straightforward process that can be done by anyone. Its DIY application is designed to be user-friendly, making it easy for you to apply the coating and achieve professional-level results. The kit includes everything you need, including a high-quality microfiber applicator pad and detailed instructions.
Shield Armor is versatile and can be used on any type of vehicle, from cars to boats and even airplanes. Its long-lasting protection makes it a cost-effective solution, saving you money on costly paint corrections and maintenance. Plus, with its 5-year lifespan, you won't have to worry about reapplying the coating anytime soon.
Protect your investment and keep your car looking like new with Shield Armor. Buy Shield Armor today and enjoy the peace of mind that comes with superior paint protection.
Shield Armor 5 is the ultimate ceramic coating solution for your vehicle. This high-performance formula offers unparalleled protection against dirt, grime, and harmful UV rays for up to 5 years. Once applied, Shield Armor 5 creates a long-lasting barrier that keeps your car looking like new with minimal effort. For even stronger protection, consider using Shield Coat after applying Shield Armor 5.