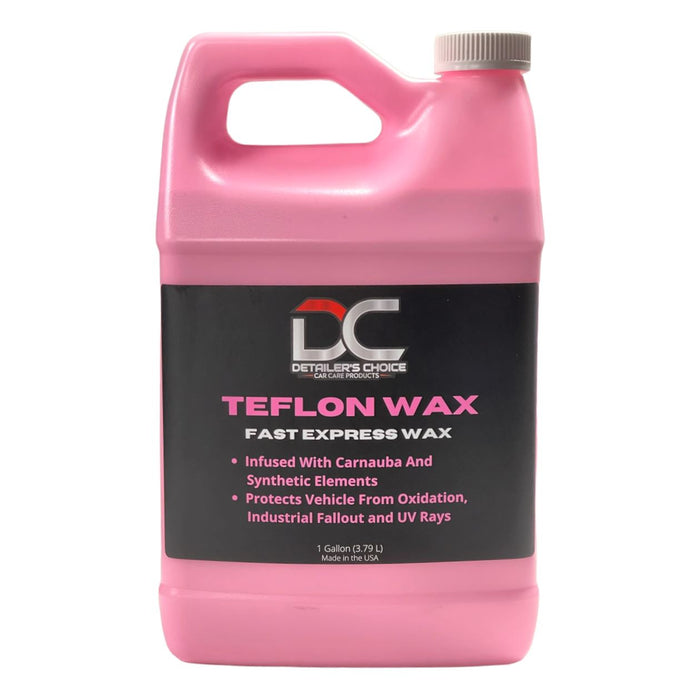 Teflon Wax™ Carnauba Infused Express Wax
Original price
$48.99
-
Original price
$48.99
Teflon Wax, the ultimate solution for car enthusiasts who demand top-notch protection for their prized possession. Infused with a blend of premium carnauba and advanced synthetic elements, this wax offers unbeatable protection from the elements and leaves a deep, glossy shine.
Teflon Wax is incredibly easy to use. Its unique formula requires minimal effort to achieve maximum results, making it the perfect choice for both the seasoned pro and the weekend hobbyist. Plus, with very low dusting, you can be confident that your car will look its best without the hassle of excessive clean-up.
Not only does Teflon Wax provide exceptional protection, it's also long-lasting, meaning you won't have to reapply it as often as other waxes. Simply follow the instructions included with your purchase and enjoy the peace of mind that comes with knowing your car is protected and looking great.
Ultimate protection and shine for your car
Blend of carnauba and synthetic elements for maximum performance
Easy to apply with minimal effort required
Low dusting formula
Long-lasting protection
Simple instructions for best results
So why wait? Give your car the protection it deserves with Teflon Wax. Order now and experience the difference for yourself!
Here are the instructions on how to apply Teflon Wax:
Start by thoroughly washing your car to remove any dirt or grime. Make sure the surface is completely dry before applying the wax.

Using a clean, soft applicator pad, apply a thin, even layer of Teflon Wax to one section of the car at a time. Work in a circular motion, applying gentle pressure to ensure even coverage.

Allow the wax to dry completely, which should take no more than 15-20 minutes. You'll know it's ready when it turns hazy or dull in appearance.

Using a clean, dry microfiber towel, buff the wax to a high shine. Be sure to work in small sections and use a light, circular motion to avoid streaks.

Repeat the process on the rest of the car, making sure to give extra attention to high-traffic areas such as the hood and door edges.
Note: Avoid applying Teflon Wax in direct sunlight or on hot surfaces. This could cause the wax to dry too quickly, making it difficult to buff to a high shine.
And there you have it! With these simple steps, you'll be able to enjoy the long-lasting protection and brilliant shine of Teflon Wax on your car.