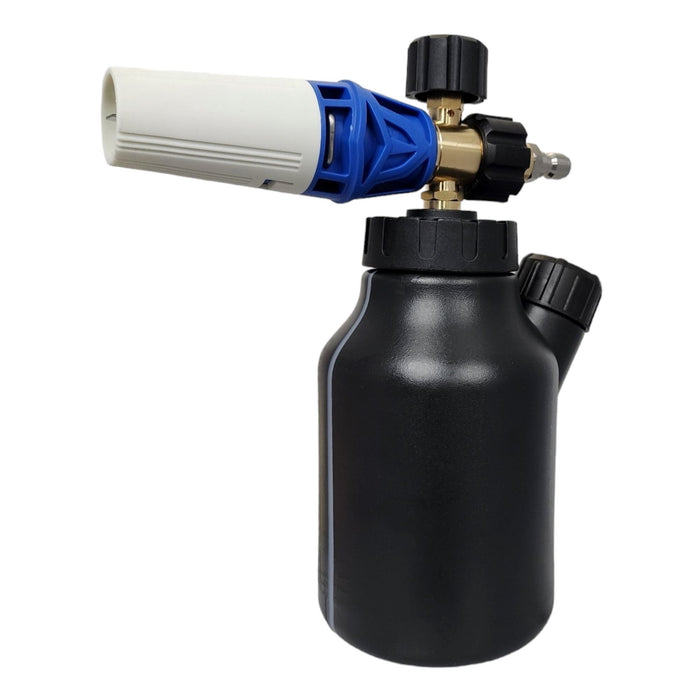 Black Big Mouth High Pressure Foam Cannon W/Side Loader
Original price
$39.99
-
Original price
$39.99
The Big Mouth High Pressure Foam Cannon W/Side Loader is ideal for large boats, high production boat cleaning, boat dealerships and detail shops. This Cannon is perfect for use with our thick, highly concentrated Wash-N-Shine Soap. No pre-dilution is necessary, economically mixes requiring less soap and it eliminates the need for a bucket. The heavy duty design includes a quick release connector and variable, adjustable spray nozzle which puts you in control of the pattern and volume of foam/water that you wish to apply to the boat while washing/rinsing. *** PRESSURE WASHER NOT INCLUDED ***
Included with this product is the 1 liter liquid bottle and adjustable spray nozzle that attaches to your pressure washer wand. This Cannon automatically mixes as you spray, producing a thick blanket of foam to speed up the washing process. Fill up the bottle with  any foam cannon ready soap, spray foam onto the exterior surfaces of your vehicle, agitate with a brush or mitt and rinse away for a quick and easy Clean that Renews and Protects and Shines like crazy!
Full 360 Degree Adjustment
*This foam gun requires a pressure washer capable of producing 2.0 GPM with a operating pressure range of 1,000 - 5,000 PSI.
Features Of The Big Mouth High Pressure Foam Cannon
Use

 with any pressure washer up to 5000 psi

Foam cannon's fluid tank holds up to 2.1 pint's (1 liter) of boat soap.

Heavy-duty design with brass fittings for long lasting professional use
Variable, adjustable spray nozzle mixes detergent
1 liter boat cleaning soap bottle
1/4 in. quick disconnect fitting for the pressure washer wand
Requires 2.0GPM pressure washer with 1000-5000 PSI pressure for proper use
Dimensions & Specs of The Big Mouth High Pressure Foam Cannon

Includes: Soap Cannon/Spray Head, Dispenser Bottles
Side Loader With Measure Cup
Length: 12 inch(es)
Width: 6 inch(es)
Height: 6 inch(es)
Weight: 2 lb(s)
California Proposition 65 Warning