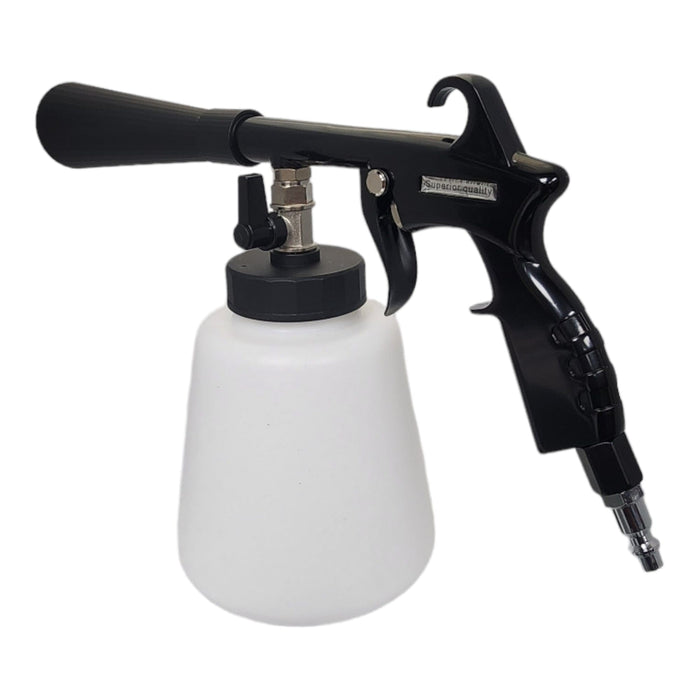 The Cyclo Max - Air Cleaning System
Sale
Sale
Original price
$109.00
-
Original price
$109.00
Precision Cleaning With The Cyclo Max
Revolutionize Your Vehicle Detailing
Introducing The Cyclo Max, your ultimate solution for precision cleaning and drying, now with the added power of Detailer's Choice Interior One Cleaner! Leave behind the days of struggling with stubborn dirt and stains. Our expertly crafted tool, designed to seamlessly integrate with your air compressor, is here to transform your vehicle detailing experience.
Unlock the Power of The Cyclo Max
Precision Cleaning, Remarkable Results
Harness the extraordinary power of The Cyclo Max! This innovative tool boasts a unique cyclone-like airflow, channeling immense cleaning and drying power into every nook and cranny of your vehicle. Professional detailers will love the speed and effectiveness of The Cyclo Max, thanks to its newly developed rotational technology inside the funnel. The new design reduces wear and ensures a longer life and superior performance.
Now, with the added convenience of a built-in tank for Detailer's Choice Interior One Cleaner, you can effortlessly clean and refresh interior surfaces with ease.
Say farewell to labor-intensive cleaning! The Cyclo Max enhances your detailing process, making it faster and more efficient than ever before.
Redefined Precision
Targeted Cleaning Excellence
The Cyclo Max features an expertly designed cone shape, akin to our renowned Tornador Car Cleaning Gun and Tornador Air Foamer. This distinctive design ensures pinpoint accuracy, directing the cyclonic air into every corner of your vehicle.
From those elusive crumbs lodged between seats to dust accumulated in seams, The Cyclo Max handles it all. Its broad coverage accelerates your cleaning, while its focused power guarantees exceptional results.
Efficiency Beyond Measure
More Than Just Cleaning
The Cyclo Max isn't just a cleaning tool; it's your time-saving companion! Effortlessly clear out debris, moisture, and dust from every hidden corner of your vehicle. The powerful cyclonic air brings hidden dirt into the open for easy vacuuming. Say goodbye to the laborious task of hand-drying—The Cyclo Max swiftly removes water from crevices.
Boost your detailing efficiency under the hood. The Cyclo Max expedites the drying process, allowing you to focus on perfecting your vehicle's appearance.
Experience Precision with The Cyclo Max
Get Yours Today
Upgrade your detailing toolkit with The Cyclo Max! This game-changing tool delivers precision and efficiency, ensuring your vehicle cleaning and drying tasks are a breeze.
Don't let debris hide any longer. Elevate your detailing game with The Cyclo Max—the difference is clear!
The Cyclo Max is not only powerful but also less noisy. Our designers have increased power while reducing air consumption and noise. Plus, The Cyclo Max is equipped with sealed ball bearings inside the rotation set, minimizing wear and ensuring a longer lifespan. Wear is minimized because the rotation set no longer comes into contact with the cone. This improvement makes The Cyclo Max better suited for long-term, frequent use, as in a professional detailing capacity.
Product Specifications:
Dimensions: 12.6" L x 5" W x 9.15" H
Fast and Easy: Quickly cleans and dries surfaces within seconds of use
Industry-Proven: Used by the professionals
Low Maintenance: Guaranteed to have a long service life with minimal wear
Durable: Heavy-duty parts
Low Noise: For an effective clean no matter what the environment or situation
32 oz. jar and an extra cap
Air Consumption: 1/min. = 120
Liquid Consumption: 1/hr. = 3.6
Sound Pressure DBA: 101.1
Includes: 1 tool, 1 cap, (1) 1/4" air fitting