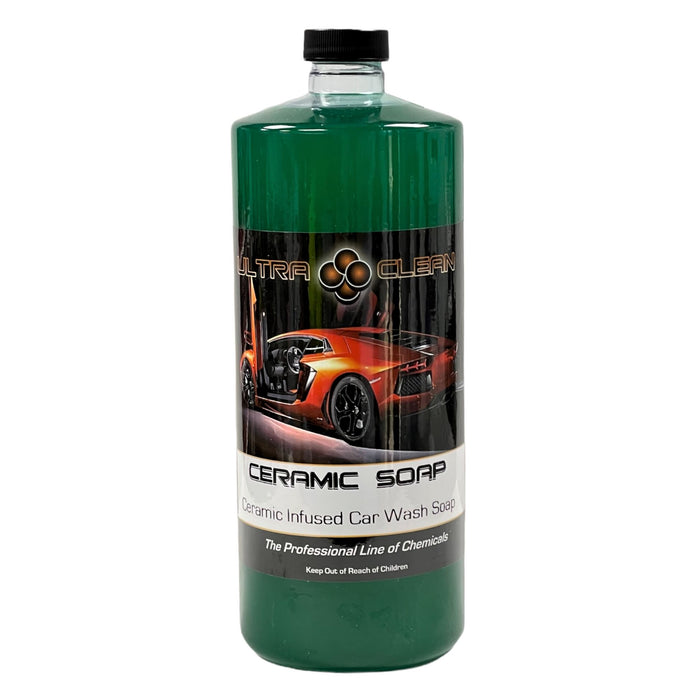 Ultra Clean® Ceramic Infused Car Wash Soap #25289
Original price
$9.99
-
Original price
$22.99
Ultimate Paint Protection
Our Ceramic Infused Car Wash Soap is specially formulated to provide optimal performance for your vehicle's paint. Infused with Sio2, this soap leaves behind a thin layer of ceramic coating that offers unparalleled protection against water damage, scratches, and other elements. Whether your vehicle is ceramic-coated or not, our ceramic-infused formula offers ultimate protection and leaves your paint with a lasting shine.

Hydrophobic Properties
Our ceramic-infused car wash soap is engineered to give your car hydrophobic properties. The sio2 layer helps the paint become more water repellent, so water droplets bead and slide off easily. This not only enhances the aesthetic appeal of your car but also ensures that water doesn't cause damage to the paint job.
High Foaming & Biodegradable Formula
Our Ceramic Infused Car Wash Soap has a highly concentrated formula that produces a rich and luxurious foam when used with a foaming gun. The foam clings to the vehicle's surface, softening and lifting dirt, grime, and other debris for easy removal. This makes the cleaning process easy and efficient.

Biodegradable and pH Balanced Formula
Our Ceramic Infused Car Wash Soap is biodegradable and pH balanced, making it safe for the environment and your vehicle's paint. The pH-balanced formula ensures that it doesn't strip off the wax or sealant from the paint, thus prolonging the lifespan of your car's coating.
Easy to Use
Multi-Purpose Soap
Our Ceramic Infused Car Wash Soap can be used as a standalone soap or to maintain your ceramic-coated vehicle. The soap is compatible with all paint finishes, making it a versatile solution for all car owners.
Ready to Use
Our Ceramic Infused Car Wash Soap is ready to use straight out of the bottle. Dilute one part of the soap to fifty parts of water, and it's ready to be used in hand washing, foaming guns, or automated machines. The soap is easy to use and requires minimal effort for a perfect finish.