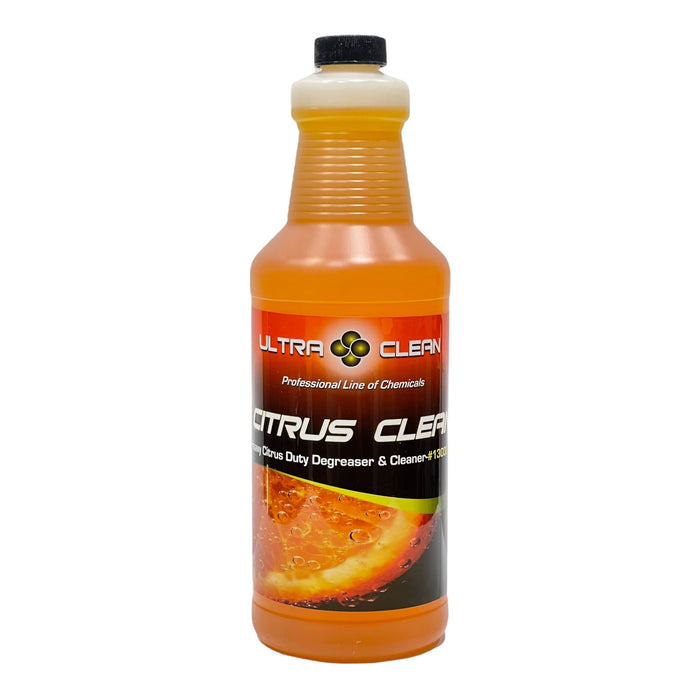 Ultra Clean® Citrus Clean Automotive Multi Purpose Cleaner
Original price
$7.99
-
Original price
$19.99
CITRUS CLEAN: Biodegradable and Environmentally Friendly
Powerful Formula for Tough Dirt and Grime

Outperforms Hazardous Acids and Solvents
CITRUS CLEAN is the ultimate solution for tough dirt and grime on your car. With its multiphase formula and special surfactants, detergents, wetting agents, emulsifiers, and rust inhibitors, it can outperform even the most hazardous acids, solvents, and other degreasers. Say goodbye to stubborn dirt and grime and hello to a sparkling clean car.
Concentrated Formula for Heavy Duty Degreasing
CITRUS CLEAN is specifically designed for the car wash and detailing industry, and its concentrated formula makes it ideal for heavy-duty degreasing. Dilute it 1:1 for engine cleaning and other tough jobs, and watch it break down and eliminate grease and grime with ease.
Biodegradable and Environmentally Friendly
Safe for You and the Environment
CITRUS CLEAN is not only tough on dirt and grime, but it's also safe for you and the environment. Its biodegradable formula means you can clean your car without harming the environment or worrying about toxic chemicals. Feel good about your purchase knowing that you're doing your part to protect the planet.
Pleasant Citrus Scent
Say goodbye to harsh chemical smells and hello to a refreshing citrus scent. CITRUS CLEAN not only cleans your car, but it leaves it smelling great too. The pleasant scent makes it enjoyable to use and leaves your car smelling fresh and clean.
Easy to Use Directions
Dilute for Your Needs
CITRUS CLEAN is incredibly versatile and can be diluted for a variety of cleaning needs. Dilute it 50:1 for light cleaning of interior parts, 25:1 for exterior cleaning, and 1:1 for engine and heavy-duty degreasing. With these easy-to-follow directions, you can clean your car with confidence and ease.
Clean Cloth for Optimal Results
For optimal results, it's recommended to always use clean cloths when cleaning both interior and exterior parts. This ensures that dirt and grime are effectively removed without leaving any residue or streaks.