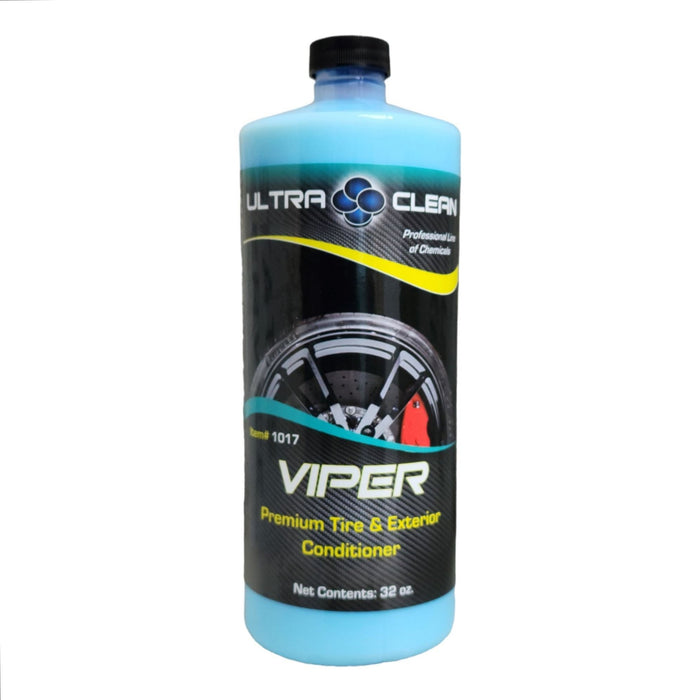 Ultra Clean® Viper Ultra Premium Dressing #1017
Sale
Sale
Original price
$24.00
-
Original price
$59.99
Achieve a Long-Lasting Shine with Viper Dressing
Introducing Ultra Clean® Viper Ultra Premium Dressing - the ultimate solution for achieving a brilliant, long-lasting shine on your car's surfaces. Our thick, concentrated water-based formula is specially formulated with unique emulsions that help protect your surfaces while enhancing their shine, ensuring your vehicle looks its best for days.
Versatile and Effective
Viper Dressing is a versatile product that can be used on a variety of surfaces, including engines, vinyl, rubber, plastic, and leather. Its easy-to-use formula can be sprayed or wiped evenly onto clean, dry surfaces. For a milky effect, allow 10 to 15 minutes for the dressing to dissipate. And for vinyl and leather, dilute up to 20:1 and wipe onto clean, dry surfaces.
Protect Your Surfaces
At Ultra Clean®, we understand the importance of protecting your surfaces. That's why our Viper Dressing contains special emulsions that not only enhance your surfaces' shine but also help protect them against harmful elements, such as UV rays and harsh weather conditions. With Viper Dressing, you can rest assured that your surfaces will look their best while being protected.