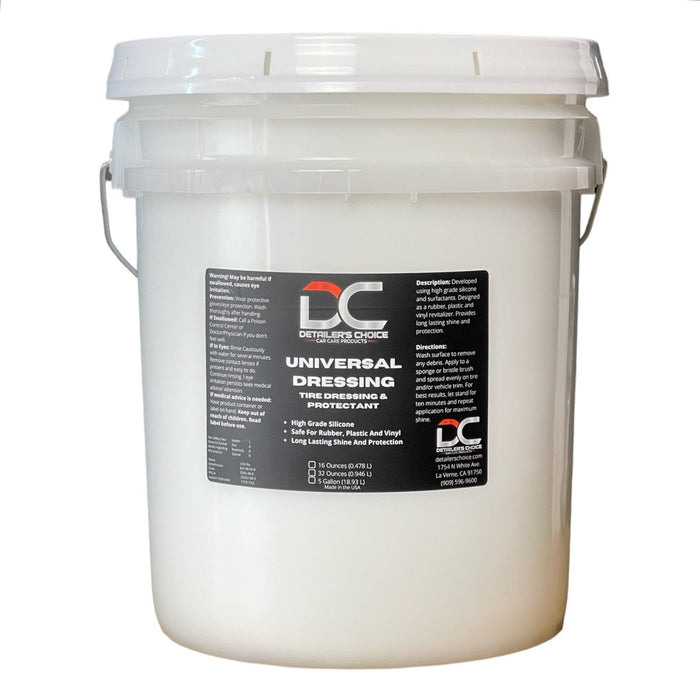 Universal Dressing - Tire Dressing & Exterior Protectant 5 Gallon
Original price
$119.00
-
Original price
$119.00
Revitalize Your Car with Universal Dressing!
Looking for a versatile product that can revitalize and protect all nonporous interior and exterior surfaces of your car? Look no further than our Universal Dressing! Our water-based, high-grade silicone formula is specially developed to work as a rubber, plastic, and vinyl revitalizer, providing a long-lasting shine and protection.
Here are some of the features and benefits of our Universal Dressing:
Versatile: Our dressing is perfect for use on a wide range of nonporous surfaces, including vinyl, rubber, plastic, and even engine components.
Long-lasting shine: Our formula provides a durable shine that will keep your car looking like new for longer.
Protective barrier: Our dressing forms a protective barrier that helps to shield your car's surfaces from UV rays, dirt, and other harmful elements.
VOC compliant: Our formula is fully compliant with VOC regulations, ensuring that it's safe for you and the environment.
Non-greasy: Our dressing won't leave a greasy residue or attract dust, making it easy to use and maintain.
Great fragrance: Our dressing has a delightful banana fragrance that will leave your car smelling fresh and clean.
Directions for use:
Wash the surface to remove any debris.
Apply our dressing to a sponge or bristle brush and spread it evenly over the surface.
Let it stand for 10 minutes for best results, then repeat the application for maximum shine.
Try our Universal Dressing today and experience the difference it can make for your car's surfaces!
California Proposition 65 Warning