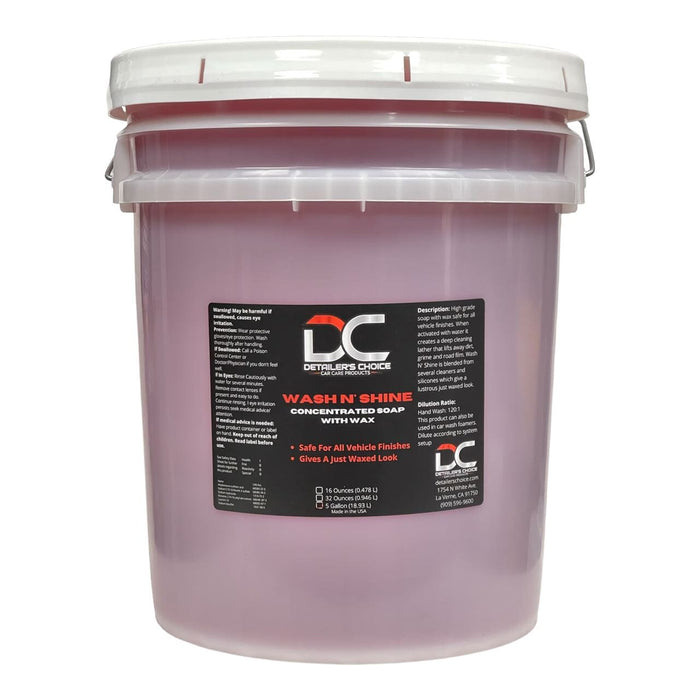 Wash N' Shine - Concentrated Wash & Wax Soap 5 Gallon
Original price
$69.99
-
Original price
$69.99
Wash N' Shine is a high foaming vehicle washing detergent with a pleasing cherry fragrance and excellent loosening action. Leaves the vehicle with a high "like new" shine.
This neutral car wash soap is designed primarily for hand wash applications, but may also be used with a pressure washer. Biodegradable and safe for all vehicle finishes.
Fleet Vehicle Cleaning
Hand Vehicle Washing
Conveyor Car Washes
Car Rental Agencies
Self Serve Car Washes
Foaming Brush Applications
Truck Washing
Car Dealers
Directions For Use:
Car washing by hand - Dilute in warm water. Use sponge or long handled soft bristled brush to apply and agitate solution. Apply to a small workable area. Washing in a circular motion be sure to overlap. Rinse thoroughly with hose or pressure washer.
Mechanical Washing - Based on type of equipment, dilute according to equipment manufacturer's directions.
California Proposition 65 Warning